When will we see Joomla 1.6 Beta? After a second Joomla 1.6 alpha release, says the Production Leadership Team.
Joomla 1.6 promises to provide several powerful new features to our favorite CMS. One new feature in particular is slowing down the development of a beta release of 1.6, but the wait appears quite worth it.
Access Control Level or ACL is the ability to limit or expand a user (or group of users) control to various functions of Joomla. Joomla's current ACL is weak, and enhancing the granularity and diversity of access controls in the next version is among the most requested features from the Joomla community.
A second alpha release will add another opportunity to test ACL at an early stage and allow the community to really get it right before moving on to the beta release.
According to recent posts in the Joomla Development Google Group listserve, as well as a blog post on Joomla.org this past weekend, ACL is moving along with a lot of excellent input from the community. Getting ACL right is delaying the release of Joomla 1.6 beta, and is necessitating a second alpha release.
According to Mark Dexter of the Production Leadership Team, Alpha 2 is coming soon.
Also interesting in the Google Group discussion are some early screenshots of the emerging "Multi Category System." As watchers of the process know, Joomla 1.6 is abandoning the Section/Category/Article hierarchy that confounds and confuses so many new Joomla users. In it's place will come a more flexible, easier to understand system.
Here's a screenshot of the new "tree structure" system currently being implemented: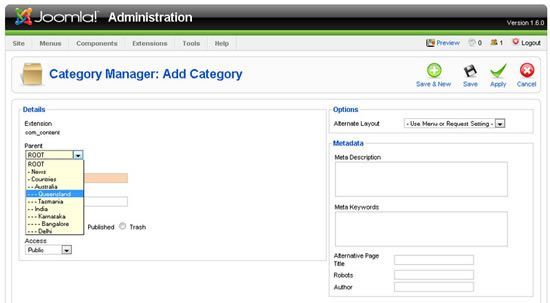 The next generation of Joomla is coming. Keep on top of the latest news for Joomla 1.6