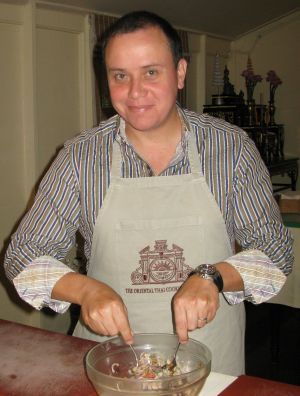 You will need: 2 Slices of Bread (white or whole wheat), Leftover Turkey, Stuffing, Mashed Potatoes, Gravy, and Cranberry Sauce.
Toast the two slices of bread lightly, each with a nice layer of butter. Warm the turkey, stuffing, and mashed potatoes individually in the microwave (add some butter to the mashed potatoes if they are dry). On the bottom slice of slightly toasted and buttered bread, spread the mashed potatoes, on top of them spread a thin layer of gravy. I normally add salt during each of the different steps, as I like my turkey salty because then it contrasts better with the tart-sweetness of the cranberry sauce. Next, layer the leftover turkey generously. On top of the turkey mash the stuffing. Cover again with a more generous helping of gravy and top with the other slice of buttered (and salted) bread. Serve with the cranberry sauce on the side.
Enjoy with a knife and fork, but if you are brave, eat it with your hands. Use a knife to lather cranberry sauce on the sandwich where you intend to bite. Enjoy!
* DISCLAIMER: We are not responsible for the gravy dripping down to your elbows which would be a shame, because as anyone can tell you, its impossible to lick your own elbow.