The Joomlashack Team Blog

This week we're proud to introduce you to our newest September Joomla
template
creation,
NUVO
!
Ultra-modern, sleek, powerful and designed to give you maximum control over the appearance of your site (without ever having to touch a line of HTML or CSS code),
NUVO
puts YOU in the driver's seat! Buckle up and have some fun.
NUVO
is waiting for you!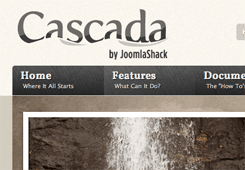 You want a template with personality? Here it is! Introducing JS Cascada, a Joomla 1.5 template overflowing with fun & flexibility and designed to stand out amongst other Joomla templates. It's super customizable, SEO-friendly, and features built-in Google Font support (for awesome headlines and titles), our new Slide Down Box Menu (makes menu items literally jump out and come to life!), six attractive color choices, 30 module positions, our free Twitter Annotation plugin, and Lifestream Joomla Extension support.
Cascada is a cool & refreshing Joomla 1.5 template and is packed with enough features to satisfy Joomla novices and power-users alike!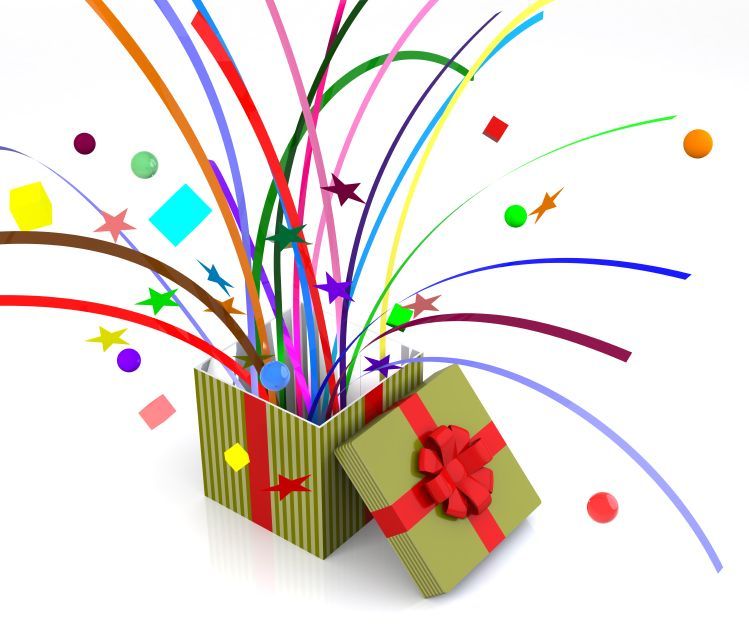 WOW, time flies! It's hard to believe, but almost five years ago, on Sept 1st 2005, Joomla was officially launched. Just a day later, on Sept 2nd, Joomlashack was founded.
Like Joomla, we've gone through some big changes since then, especially the past year or so--a new team, new
Premium Joomla Templates
, launching
Joomlashack University
, releasing new
Joomla Extensions
and now our own
Wordpress Themes & Drupal Themes
, too!
Big changes, indeed--but one thing that will never change at the 'Shack is our commitment to bringing you the very BEST Joomla (and other CMS) products at the very BEST value anywhere.
We want to thank you all for making Joomlashack so successful these past 5 years. Here's to another 5!

We recently released a very informative, in-depth training lesson in our Joomlashack University on how to set up and use the Wordpress for Joomla! extension by corePHP. Wordpress for Joomla! is a powerful new Joomla extension that allows you to use Wordpress blogging software inside your Joomla website. With Wordpress for Joomla, you can enjoy the best blogging platform integrated with the best content management system available. You can even use Wordpress plugins and Joomla modules all at the same time, on the same blog. It's amazing.
In this new Quickshot preview of Wordpress for Joomla, JSU instructor Forest Linden gives you a very brief overview of just a few of the many cool features that Wordpress for Joomla! has to offer.
Today, we're excited to announce the launch of our professional Wordpress and Drupal themes!
The 'Shack's been a pretty busy place this summer--as we've recently released 4 new Joomla templates, our new Joomla extension Lifestream, and now our Wordpress Themes and Drupal Themes collection.
It pleases us to announce our partnership with Simplethemes. Casey Lee, owner of Simplethemes was one of the founders of Joomlashack, and so it is with great pride that we have signed an agreement with Casey to become the exclusive retailer of his wonderful and professional Joomla Templates.
We are proud to release these 4 new premium Joomla templates and you can look forward to a new template from Casey every month from now on.
We have 3 more template launches coming up during the next 4 weeks. Please also look into the new Joomla lessons added recently in our University; and our first Joomla extension, Lifestream, which was released last week.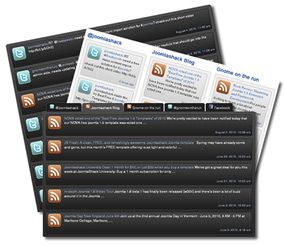 Lifestream 1.1 has been officially released (a week ahead of schedule no less)!

Lifestream 1.1 for Joomla integrates your social network feeds and displays them ALL on 1 website!
Version 1.1 adds Flickr, Youtube and Tumblr support to Lifestream for a total of 6 social network integrations so far (Facebook, Twitter and RSS Feeds were included in the initial release of Lifestream two weeks ago)
New customers can get their copy of Lifestream for just $24 here.
Registered customers of Lifestream can now download version 1.1 for free in our downloads shop here.
Don't forget..LinkedIn and Last.fm plugins will be released in early October. Customers of all previous versions of Lifestream will be able to download these new plugins (plus any future plugins) for free for 6 months after their purchase.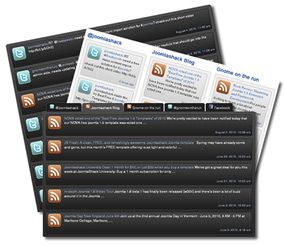 Today, we're excited to announce the release of our very first Joomlashack extension called Lifestream!

Lifestream for Joomla integrates your social network feeds and displays them ALL in one place!
It's a powerful new component & module that dynamically updates your website with all your social network activities and RSS feeds. You can set it to display as separate streams or as one integrated social stream that includes all of your social network updates. You can display your 'life streams' in side-by-side windows, tab view or in one window.

Imagine the power and convenience of sharing your Flickr pics, YouTube videos, Facebook status updates, blog posts, RSS feeds, Twitter tweets and more...all from one website. Cool huh?
Lifestream for Joomla now makes that possible!
Spring may have already come and gone, but this month's FREE template offering is as light and colorful as an April 'morn.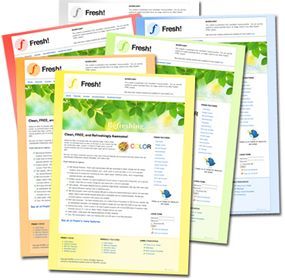 Introducing Fresh! A clean, FREE and refreshingly awesome new free Joomla template from your friends at Joomlashack.
Light. Colorful. Clean and Awesome.
Perfect for Web 2.0-inspired sites and personal blogs, Fresh's clean, simple, no-nonsense layout is easy on the eyes so your visitors can find the content they need...quickly. It comes in 6 light colors, up to 30 module positions and it's no-bloat code loads super fast for maximum SEO.

But don't let Fresh's simplicity fool you--it has many of the pro features you've come to love and expect from our Joomlashack Professional Joomla Templates. Let's take a look...
We've got a great deal for you this week at JoomlaShack University:
Buy a 1 month subscription for only $42, or, get it for $35 when you also buy a Joomlashack professional template at the same time.

Joomlashack University is your #1 online source for Joomla training and it's simply the fastest, easiest way to learn how to build successful Joomla websites. Period. All the tips, tricks & techniques of Joomla website development--from beginner to advanced concepts--are taught at Joomlashack University by top Joomla experts.

And now, for a limited time, you can save almost 40% and get instant access to a growing library of Joomlashack University lessons, like "An in-depth tour of Joomla 1.6", "Customizing Joomla templates", "learning K2", "mastering Jomsocial" and much more. New lessons are added every few weeks!

Joining JoomlaShack University has never been easier. But please hurry! This special introductory offer of 1-month for $42 ($35 with the purchase of a pro template) won't last forever, so check out all the details and learn more here.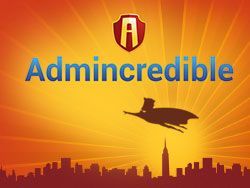 With Admincredible you can update and manage all your Joomla sites. Whether you have 5 or 500 sites, Admincredible will make your life easier!
Visit Admincredible.com.