Showtime Joomla Template
Template Compatibility:
Joomla 2.5
Joomla 3.0
Responsive
View a live demo to check out the great features of this template
Rest Assured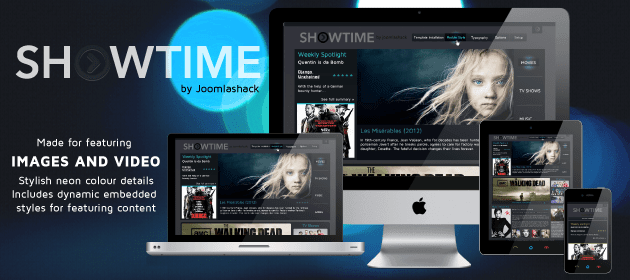 Beautiful Visuals Deserve A Beautiful Website
With this thought in mind, we decided to create Showtime, a Joomla template that allows you to display, classify, and organize a huge amount of visual information. Showtime is the perfect template to showcase great works of photographers, illustrators, videographers, creative people, creative agencies, or freelancers to name a few.
A Feature-rich Joomla Template with 9 Different Color Schemes
Modules that enrich your content: Showtime's layout is staged so that you can add videos, photos, illustrations, calendars, polls, user reviews, and many more elements to complement the site's content.
Styling versatility: You can customize individually each module and make it look the way you want. Background and font colors easily can be changed to have the look-and-feel that better serves your content.
Color Schemes: In addition to the traditional white, black and grey backgrounds, you also have 9 different font colors to choose from.

Faster Load Times thanks to LESS, the Wright Framework, and Bootstrap
Showtime has been built using a variety of techniques dedicated to optimize the website's loading speed even if your content is rich in heavyweight imagery.
LESS: By using LESS, we were able to reduce Showtime's CSS code by about 33%, making it a very efficient template. LESS allows us to write CSS in a smarter way by combining functions, mixins, operations and more. LESS enables us to write more concise style information and can reuse things like colors and styles more easily. The result is a faster loading site and one which will be easier to update and maintain.
Wright Framework: Showtime was built on Joomlashack's Wright framework, which is designed to be light so that your sites load quickly. Proof of this is that other Frameworks are between 3 and 8 times larger to load than Wright.
Bootstrap: Bootstrap has been incorporated into the Wright Framework to provide you with a fantastic toolkit to quickly customize Showtime in a user-friendly way.
Last but not least, Showtime is Mobile Ready and Responsive!
Simply put, your website will look and work great on any screen size: smart phone, tablet, PC, and laptop.
Why Should you care what Framework your Joomla Template is built upon?
If you want your site to load quickly, then you need to have a Joomla Template built with a Framework that's Lightweight.
If you want your site to be able to run the latest version of Joomla, then you will need a Joomla Template built with a Future-Proof Framework that is quickly updated with each Joomla release.
Are all Template Frameworks built the same way?
Other Frameworks have taken what we are convinced is the wrong approach. They have integrated tons of features that have made their frameworks bloated, fat, slow, unreliable and tiresome to update and maintain. There is simply a lot more stuff to go wrong in them and more stuff to update with each new Joomla release. Soon you start to realize that when it comes to Frameworks: less is more.
Why is Joomlashack's Wright Framework Different?
We believe that the Framework should be minimalistic - - it should have the bare minimum to load and function. At 1.2Mb, Wright v1 was already the most lightweight Framework out there: Wright 3 tips the scales at just 563kb! As a result, when compared with other Frameworks,
Sites built with Wright load quicker.
Wright-built Joomla Templates are always the first to be updated when a new version of Joomla is released every 6 months.
Wright works reliably with the most popular and the obscure Joomla Extensions.
The Joomlashack Joomla Template - a "Strictly Joomla" approach to templates
We build light, non-bloated, and simple to install Joomla Templates to make your life easier. We call them "strictly Joomla" because in most cases you are able to install them using only the Joomla CMS and it's built-in features. This is different from other template companies because they require you to install extra plugins, extensions, and usually need a CCK to get your site to look like their template. Experienced developers have loved our strictly Joomla templates since 2005 because:
You don't need to install heavy plugins or extensions to make the template work.
All these extra plugins and extensions will also need to be maintained and updated with each new Joomla release (every 6 months), as well as made to be compatible with other 3rd party extensions.
Our template's low Javascript footprint gives your site the best universal browser results.
A light and quick-loading template/site is good for SEO.
Our templates have simpler overrides reducing installation, support, upgrade, and maintenance needs. For example, our Joomla 3.0 upgrade took less than two days to apply to all our templates. In contrast, some companies still aren't done updating their complicated templates to Joomla 3.0.
The end result is a lighter yet more robust, more reliable, and easier to maintain site. Learn more about the Wright Framework, the lightest framework in the Joomlasphere.
All personal information you submit is encrypted through our secure checkout
What module positions are in this template?
Showtime Joomla Template supports 14 module positions. View the demo for a look at the positions in use.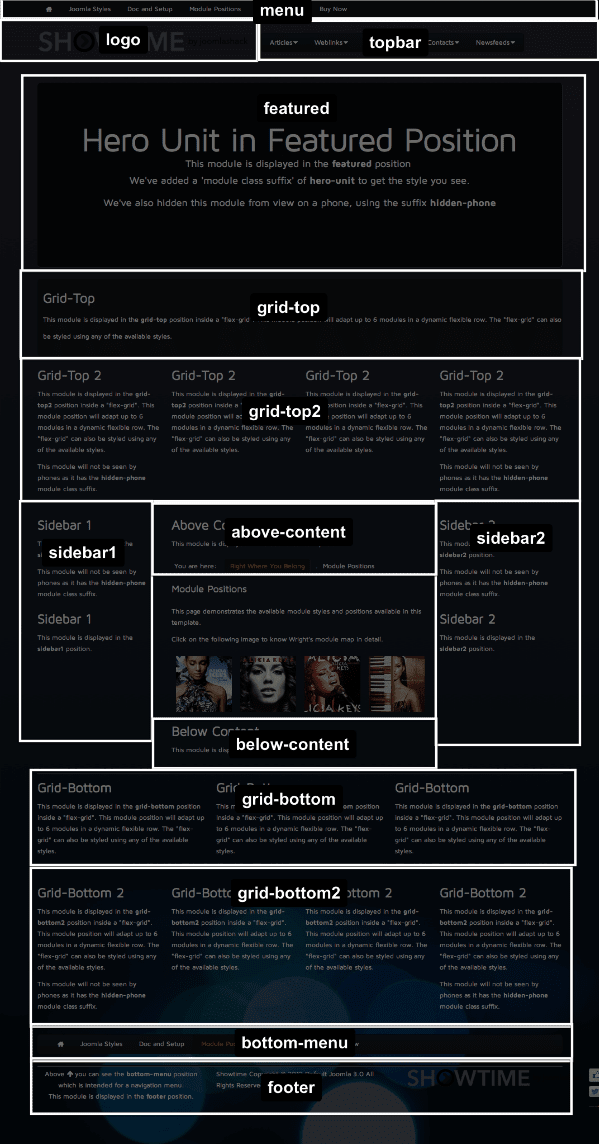 All of our templates include detailed documentation for installation and configuration.
You can find the documentation on the live demo of Showtime Joomla Template.
The following is included with the purchase of the Showtime Joomla Template:
The template install file.
Source Graphics used to create the template, allowing easy customization of template graphics.
A guarantee the template will work with default Joomla, and that bugs in Showtime Joomla Template if found will be fixed in a timely manner.
Access to the Community Forum for help with template setup, customization and Joomla usage.
What's NOT Included
The sample content seen in the demo, including articles and sample images.
Guaranteed help with template setup, customization and usage, except what may be found by posting in the Community Forum.
Joomla usage help.
Joomlashack commercial extensions, such as:
All personal information you submit is encrypted through our secure checkout.