JContact for iContact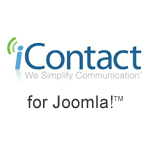 Features
Mail-merge Personalization
Forward-to-a-Friend
SpamCheck
Bounce-back Handling
WYSIWYG Newsletter Editor
Message Scheduling
Assured CAN-SPAM Compliance
Open and Clickthrough Tracking
Subscription Management
Over 300 Templates Included
List Segmentation
Multiple Message Autoresponder
Integrated Surveying
Advanced Analytics
Event Management
Industry Leading Deliverability
Public Newsletter Archives
JoomlaShack has partnered with IContact to develop J!Contact, a simple way to integrate the registration process of Joomla, Community Builder and SMF into IntelliContact.
J!Contact is an integration of Joomla and IContact. With over 10,000 customers, IContact is a leading on-demand email marketing service. IContact allows organizations of all sizes to easily create, send, and track email newsletters, RSS feeds, surveys, and autoresponders.
In the web today, if you have a website, then its more than likely that you need to be sending out emails. You might have read some of our reviews at Compass Design about various email solutions. We have reviewed both Joomla email components and hosted email software. We are a big fan of Intellicontact. We actually use it ourselves for our email needs. So we decided to build a complete integration using IContact's powerful API.
J!Contact solves the two biggest problem of Joomla newsletters, CAN-SPAM compliance and larger lists. If you have larger lists, you need the specialized deliverability features of a hosted solution. However, this can lead to problems with making sure users stay unsubscribed to comply with the CAN-SPAM act. We have solved this problem through the IContact API. When users register on a Joomla site, or through Community Builder or SMF, they will be added to an IContact list as defined in the configuration. If a user unsubscribes, they are permanently added to IContact's unsubscribe list and will NEVER get any future emails.
With iContact, You Can Easily Create, Send, and Track Email Newsletters, RSS Feeds, Autoresponders, and Surveys!
To use the J!Contact extension, you will need an account with IContact (prices start at $9.95 per month). A free demo is available for you to test the extension.
Sign up below and we'll create an account for you in our shop that will give you access to download all of our free products. Once submitted you'll receive two emails from us, one with login information, and one to confirm your email address to opt-in for future communications should you wish to receive them.
*By filling in and submitting the form below you are agreeing to receive communications from Joomlashack and it's parent company Meritage Assets. We do not share your information with any other companies. We send emails roughly once a week. In these emails we will tell you about our new product launches as well as current discounts and special offers.
If you do not want to receive our tips, tricks, discounts & special offers, you can unsubscribe from our email list at any time.