Fresh Free Joomla Template
Perfect for Web 2.0-inspired sites and personal blogs, Fresh's clean, simple, no-nonsense layout is easy on the eyes so your visitors can find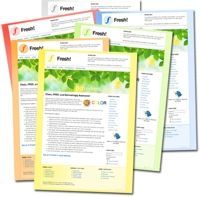 the content they need...quickly. It comes in 6 light colors, up to 30 module positions and it's no-bloat code loads super fast for maximum SEO. This is one cool Free Joomla Template.

But don't let Fresh's simplicity fool you--it has many of the pro features you've come to love and expect from our Joomlashack Professional Joomla Templates. Let's take a look...

Fresh! features at a glance...
30 Module Positions - Fresh! uses sophisticated CSS grid technology to easily manage over 30 module locations. Each of the module locations user1, user2, user3 or user4 can hold 1, 2, 3, 4 or 6 modules!
6 light colors to choose from including sky blue, organic green, wildflower yellow, citrus mango/orange, perennial red/pink, and white/grey.
Multiple Layouts - Whether you need a traditional 3 column layout, or wanna rock it blog-style, we've got you covered. Fresh! lets you quickly change the main layout with a click of a parameter.
Fast Loading - With speed features such as combined image assets, compressed CSS, lean W3C valid code and optional Mootools loading, Fresh! is lightening quick.
960 Grid-powered- Fresh! uses the popular 960 grid to achieve its sophisticated layout options. Its super light-weight, doesn't need Internet Explorer hacks and is compatible with all A-Grade browsers. The 960 grid promotes balance, consistent white space, and usability.
SEO-ready template - The Fresh! template gives you a state of the art foundation for SEO for your website, like all Joomlashack templates. Our templates do better in Google and you'll get more traffic to your site.
Multi-browser ready - Fresh! renders in all major A-grade browsers with minimal CSS hacks. It supports major browsers such as I.E. 7 and up, Safari, Firefox, Google Chrome, and more.
CSS3 fueled - CSS3 styles that degrade gracefully for older browsers
Easy Title Customization- make your heading stand out with easy-to-use title parameters
Fresh! comes in 6 colors with an ample white space design. Sky Blue, Organic Green, Perennial Red, Citrus Orange, Wildflower Yellow and Greyscale - ALL for free!
Live Demo Download Free Joomla Template
Color Options
Click on a template thumbnail below to view the demo in that style.
Our Commitment to produce Free Joomla Templates
During 2012 Joomlashack will release more Free Joomla Templates than ever before in its history. We will release reliable and cool Free Joomla Templates for almost every conceivable web design you may need. They will be built on the versatile, nimble, and reliable Wright Framework. And because these new templates will be built on Wright, they will be quickly and easily updated into Free Joomla 2.5 Templates.