Welcome to The Joomla University
You want to learn. How can we help?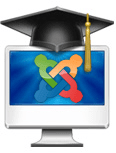 Here at Joomlashack we pride ourselves at producing high quality tutorials and guides for Joomla. Our expertise spans graphic design, CSS, PHP and the end user.
We like to call this our Joomla University. As well as the most popular selling ebook for Joomla on the web, The Joomla Admin Manual, we also offer many free tutorials online. We also have many video tutorials as screencasts for those of you that are more visually inclined!
Coming soon we will have entire Joomla educational packages, DVD, webcasts and more, all designed and delivered by certified teachers.
We are always looking for ideas and feedback about our contribution to Joomla users. Here is what some people are saying:
"Thanks Joomlashack for the great templates but even more for the wonderful tutorials. I made this site using the JS Education template and the free manual and I now have a much better understanding of how a Joomla site should be put together. I have bought the lightfast template pack so that i can rebuild my first sorry attempt on my own website and also shift the two other club sites I made with a html editor to Joomla. I did not like Joomla before I used your resources but I love it now. Thankyou"