Avalon Joomla Template Updated to Wright and Joomla 2.5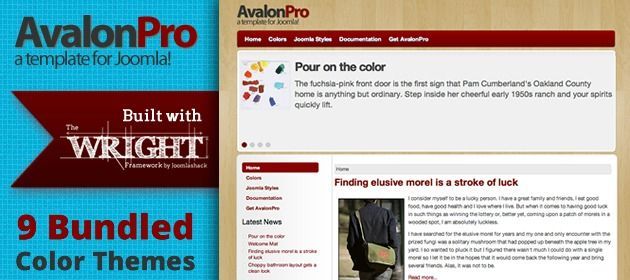 We're excited to announce that one of our most popular templates, AvalonPro, is now Joomla 2.5-compatible and on our Wright Framework -- which makes customizing your Avalon template even easier than before!
AvalonPro has a cool, modern design and comes with 9 vivid color themes, easy-to-edit CSS, attractive typography options, and 15 collapsible module positions. Plus, you can easily customize the columns, fonts, and more.
The Wright framework is Versatile, Nimble, and Reliable. Unlike so many Joomla Frameworks out there which are loaded with everything but the kitchen sink, the Wright Framework is designed to be light so that it makes your sites load quickly. Proof of this is that the Wright Framework is between 1/8 and 1/3 the size of other frameworks - - IOW, other Joomla frameworks are between 3 and 8 times larger. The end result is a great tool that is being integrated into all of Joomlashack's Joomla Templates, providing many benefits to you, our customers.
And don't forget, you can get AvalonPro plus dozens more templates for 1 super low price if you join either one of our Developer Template Clubs at Joomlashack today.