Details

Written by Eddie Tabush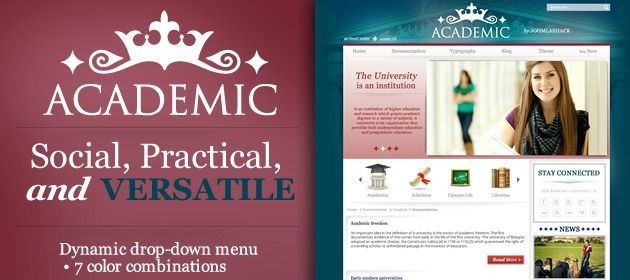 Please welcome Academic, our newest Joomla Template. Academic is social, practical, and versatile and because it's built on the Wright Framework it is going to be easily updated to Joomla 3.0 when the time comes. Academic has 7 color combinations, an elegant accordion menu, and its using CSS3 styles and transitions.
An Adaptive and Configurable Background Image
With this wonderful built-in feature you'll be able to easily assign what background images to display. For example, the background image in the demo was taken from this image. Imagine how easy it will be to give your next project a fancy background with this cool feature?
Yes, Built on Wright. Why Should you care?
The Wright framework is Versatile, Nimble, and Reliable. Unlike so many Joomla Template Frameworks out there which are loaded with everything but the kitchen sink, the Wright Framework is designed to be light so that it makes your sites load quickly. Proof of this is that other Joomla Template frameworks are between 3 and 8 times bigger than the Wright Framework. The end result is that Wright is a great tool that has been integrated into all of Joomlashack's Joomla Templates, providing many benefits to you, our customers.