Visionary, a New Joomla Image Manager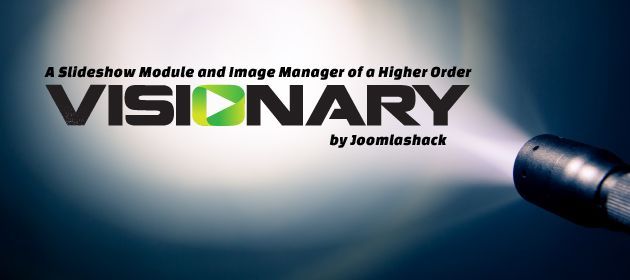 The 4th Product in in 6-in-6 Challenge is here
As many of you already know, we are in the middle of a gruelling chalenge: To Launch 6 Products in 6 Weeks. Today, we are proud to release Visionary, the fourth product in the challenge. Last week we released Share it our new Social Media Plugin and it has been a great success with so many of you trying it. From the bottom of our heart we want to say: thank you for continuing to place your trust in our products, our team, and our company.
Image Collections Displayed With Ease and Style
The Visionary Joomla component by Joomlashack is a new way to manage and display image collections as slideshows on your Joomla powered site. It has been built from the start, fully bootstrapped, and ready for Joomla 3.0.
A Joomla Image Manager of a Higher Order
Visionary allows the convenience of mass uploading of images to be assigned to a 'collection', and that collection can be used as the source for a full page slideshow, or as the source for the bestselling Shackslides module (included with Visionary) to present a slideshow in any module position. Plus each image in a collection can also be edited to include a title and description, allowing easy editing of the slide using the WYSIWYG editor of choice. No more messing with XML files!
More Features are Coming
Future updates will introduce more ways for you to display your image collections, making Visionary the last image management and display component you'll ever need!