FREE EasyBlog extension with purchase of our newest 1.6 template, Simplepraise--First 50 customers only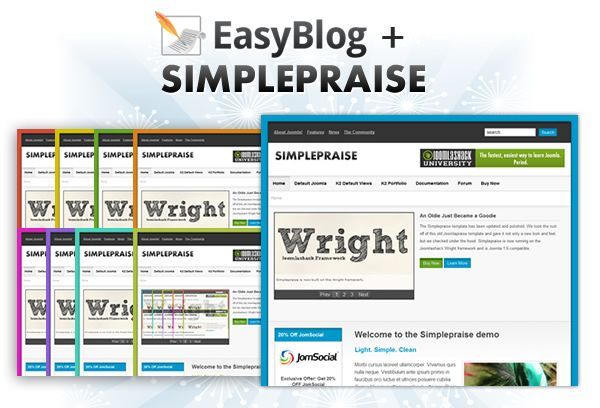 Today we released a brand new Joomla 1.5 / 1.6 template called JS Simplepraise.
Simplepraise is a simple, yet elegant template that's easy on the eyes and even easier to customize. It's clean design (with generous white space) will allow your visitors to easily scan and quickly retrieve the information they are looking for when they visit your site. And it's simply perfect for any website--especially news sites, blogs or communities. No bloat. No clutter. Just clean, simple web 2.0 design...

10 included preset schemes

10 matching module styles

13 collapsible module positions

Built-In K2 styles!

Over 15 parameters in all to help you customize your website
The Simplepraise template is powered by the ultra-fast Wright framework and is Joomla 1.5/1.6 compatible. You're going to love how fast it loads.
SPECIAL OFFER: Buy Simplepraise, get EasyBlog blogging extension for Joomla- FREE! A $45 value--first 50 Simplepraise customers only!

We're super excited to be partnering with the folks at Stackideas.com, makers of EasyBlog, an awesome new blogging extension for Joomla. We're giving away FREE licenses of EasyBlog Community Edition this week to the first 50 Simplepraise customers! All you have to do is be one of the first 50 customers to buy Simplepraise, and Stack Ideas will send you EasyBlog Community Edition absolutely FREE (within 24-48 hours of your purchase). That's a $45 value!
Simplepraise, with its clean Web 2.0 layout, is the perfect template for blogs - and EasyBlog is the perfect blogging engine to power your blog. If you want to turn a static Joomla website into a cool, interactive blog, look no further than EasyBlog.

EasyBlog Community Edition is packed with quite a few familiar blogging features you'd expect in a blogging extension, but it also has some unique features of its own that you'll love. And as the name says, it's super easy to set up and easy to use. Plus, it has 3 included pre-built styles that should match just about any Joomla template--especially Simplepraise.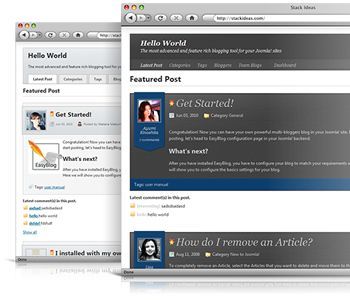 EasyBlog supports multiple bloggers on your website and even allows your bloggers to select their own themes (other Joomla blogging extensions cannot do that)!

EasyBlog includes powerful blog editing capabilities and a rich Dashboard for your bloggers; RSS Feeds throughout the system; integrates with Ping-o-matic; 3rd party avatar integrations; automated social sharing features and so much more.

In short, all you need to do is to focus on writing your blogs and EasyBlog will do the rest for you. Check out all the features HERE.
But the best part about EasyBlog? It's *FREE with your purchase of Simplepraise.

EXCLUSIVE OFFER: Don't pass up this opportunity to get a clean & elegant template like Simplepraise AND a FREE copy of the EasyBlog blogging extension (Community Edition)--one of the most full-featured, easy-to-use blogging extensions for Joomla we've seen in a long time. Remember, the first 50 Simplepraise customers get EasyBlog for FREE. So, please hurry before it's too late!