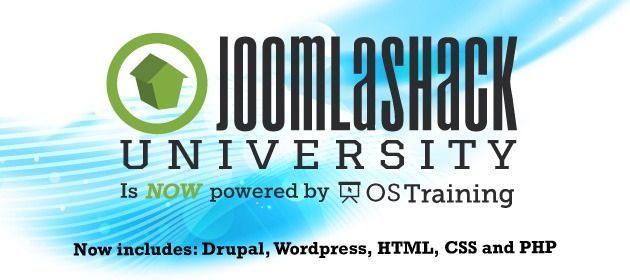 Now the easiest way to learn Joomla, as well as Wordpress and Drupal
Since 2009 our Joomlashack University has been the easiest, fastest way to learn to build a Joomla! powered website, period. Today, thanks to our partnership wth OSTraining you now have access to all our content in addition to ALL of OSTraining's content which means we can now teach you how to build Wordpress and Drupal powered websites too.
About OSTraining, our new online training partner.
OSTraining started teaching folks to build successful websites over 5 years ago with live training. To that end is has become the most succesful trainer of open source CMS's in the US. Its client list is a who's who of american government agencies, colleges and universities, and fortune 500 companies including the White House, the United Nations, Apple Computer, Hewlett Packard, Harvard, Yale among a hundred others.
Their mission to "explain websites so clearly that anyone can understand" is explained by the five core values that help them carry out that mission.
Personal. OSTraining believes that personal support and the human touch are a vital part of learning.
Clear. Their training does not use jargon. They teach using plain English.
Practical. Their training can be applied to the real world.
Structured. They provide clearly-defined processes to help simplify complex tasks.
Positive. They believe there is no-one who cannot learn to build websites.
Join Now and Save
For a limited time, join Joomlashack University and save 25% on ALL plans and subscriptions. Use the code JSU&OST (case sensitive)
Current subcribers will continue to have access to all of Joomlashack's content, and will now obtain access to all of OSTraining's video tutorials, lessons, and courses . In addition to a comprehensive library of new Joomla training content, OSTraining brings to our subscribers complete courses on Drupal, Wordpress, HTML, CSS, and PHP. If you are a current subscriber to Joomlashack University, you will get all of OStraining's content at no additional price.
So you think you know Joomla?
OSTraining's content brings a host of new lessons that willl help you raise the level of your game. Join Joomlashack University today and get access to all our Joomla training as well as all of OSTraining's content.
Become a Triple-Threat Freelancer by learning Drupal and Wordpress Too
Joomla, Wordpress, and Drupal... they each have their die hard fans and rightly so. That's because they each excel for different reasons AND different purposes. Your business might not triple in size if you become proficient in all three, however, it sure can't hurt.
Think about this, there are 5-6 times more WP than Joomla sites out there, and millions of them need maintenance, redesigns, backups, and updating. So becoming an advanced WP developer can certainly be good for business. On the other hand, Drupal is killing it with enterprise solutions and because large corporations are doing better than small businesses in this economy, there is great demand for good Drupal developers. A good argument for learning Drupal.
Tired of your amateur status and ready to become a Pro?
Do you know the difference between a stylist and a designer? A stylist can make things look good but a designer creates! Have you been getting by merely as a stylist? Are you ready to start creating? You owe it to yourself to join Joomlashack University. We will teach you how it is meant to be done.
Our Joomla, WordPress, Drupal, and Coding video tutorials will give you the skills to easily and quickly build and maintain web site(s) leaving you the time to concentrate on the important things, the content, new customers, etc. We will make your life easier.
You will learn to do things right from the start and when you're ready to take that next step we will be with you every step of the way. With new Training videos added regularly we will share with you some of the many tips and tricks that the "professionals" try to keep for themselves.
Join Now and Save 25%, use the code JSU&OST
For a limited time, Join Joomlashack University and save 25% on ALL plans and subscriptions. Use the code JSU&OST (case sensitive)


OSTraining Content, Now part of Joomlashack University


Joomla (15 classes)

Joomla is both flexible and easy. Joomla is used by individuals, small & medium-sized businesses, and large organizations worldwide. With over 10,000 extensions available and even more templates, Joomla can do anything you need.

WordPress (6 classes)

WordPress is easy to use and easy to modify. For these reasons, WordPress is the most popular way for people to build a website. Millions of people every day use it to create blogs and websites.

Drupal (18 classes)

Drupal is powerful, flexible software used by large sites. Many government agencies use Drupal, including WhiteHouse.gov, as do many renowned companies and institutions, such as Sony, the New York Stock Exchange and many more.

Coding (4 classes)

The three key building blocks for Joomla, WordPress and Drupal are HTML, CSS and PHP. Our coding classes teach you how to master all three of these vital languages.

... Now including OSTraining Content!!!