CMS Expo back in Chicago- Get $25 off for Being a FOJ (Friend of Joomlashack)
Written by Tom Elliott

Tom Elliott

Category: Joomla 1.5 Joomla 1.5

Published: 26 March 2009

26 March 2009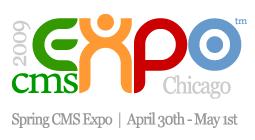 CMS Expo- April 30 & May 1st in Chicago!
Our friends at the CMS Association are back this spring with another spectacular conference for Joomlaheads and open source CMS fans generally- the second annual CMS Expo in Chicago!
Here's how they explain what CMS Expo Chicago is:
The CMS Association invites you to come for two high-energy days of training on top CMS solutions Joomla, Drupal and Alfresco. With over forty CMS learning sessions in six training tracks, CMS Expo has all you need to get up to speed on the latest content management techniques and trends.
Friends of Joomlashack get a special $25 off the registration price. Check it out and register now- space limited!