One Joomlashack customer asked if it is possible to create JCal Pro events from a website frontend.
The answer is "Yes", and this tutorial we'll show you how it works.
To do this, we'll need to use the access control in Joomla and JCal Pro. This allows us to decide who is given permission to submit events.
---
Step #1. Using Joomla and JCal Pro ACLs
Theoretically, you can assign JCal Pro event creator to already existing Joomla's default Author group. That, however, will mean that the event creator will have permissions to create new content side wide.
For your site security purposes, the general rule of thumb is to always give to your Joomla users as little permissions as you can. We suggest you create for your JCal Pro frontend event creators their own user group.
You may name it to your liking. The main thing is to select the Joomla built-in Registered user group as this event creators group parent.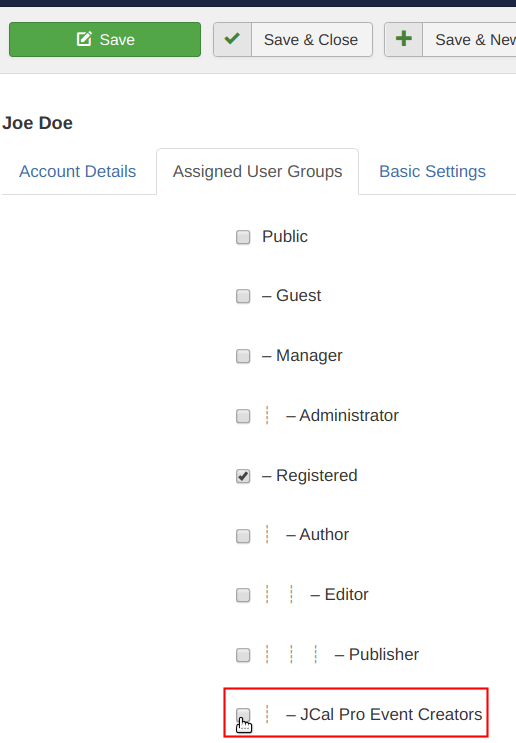 Once you created new Joomla user group for your JCal Pro event creators, assign your Joomla user which you delegate the task to, to this new group.
In conclusion, assign to this event creating user permission Create > Allowed in JCal Pro ACL.

That's basically it as far as working with ACL is concerned.
---
Step #2. Create a New Event Menu Item
With your Joomla user now having necessary permissions, you need to enable them to navigate to the event creation frontend JCal Pro page. This is done by creating a menu item by the JCal Pro > Add New Event type.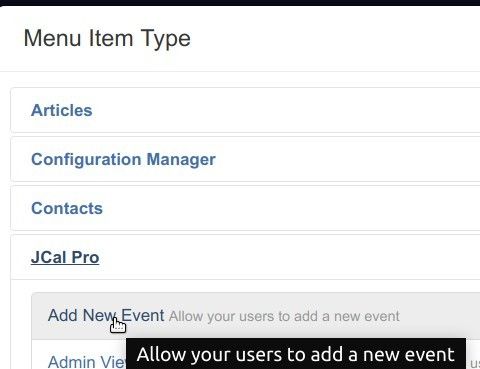 ---
Step #3. Event Creation Frontend Page
Once this menu has been created, your user just needs to click it to see the Add Event JCal Pro frontend page.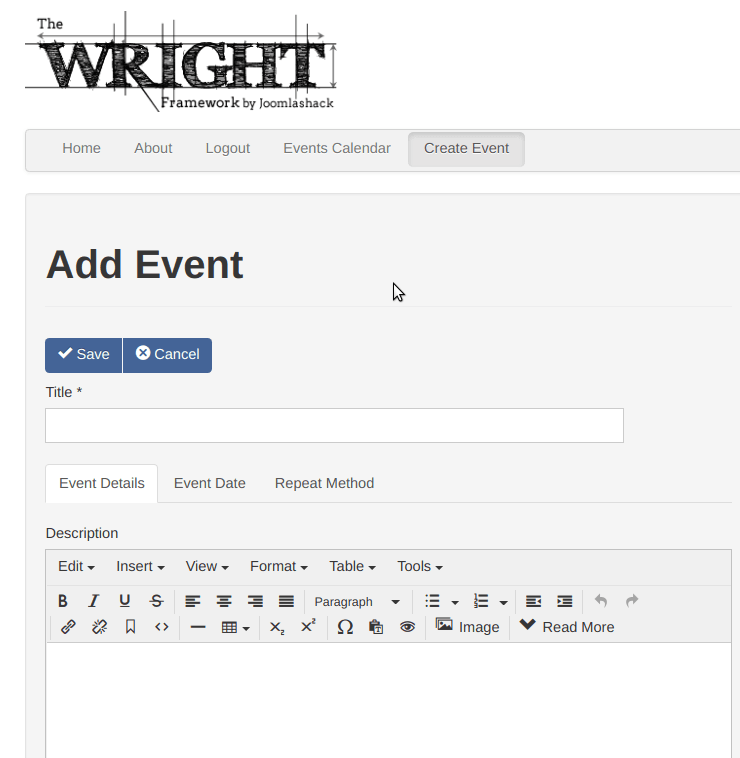 Your Joomla user is now ready to create a JCal Pro event at your site.
---
Step #4. New Event Listed in the JCal Pro Control Panel
Every time your frontend JCal Pro event creator submits a calendar event, you will see it at your JCal Pro event listing administrative page.

As the site owner and its Super User, you are now ready to administer this event. Your available options are to edit the event, to export it to an iCal formatted file, approve/disapprove it, publish it or delete it.
---
Step #5. Email Notifications
At the same time, you will receive an administrator email notification about the new event waiting for your approval.

JCal Pro will also send an email notification to the event creator.

---
Conclusion
JCal Pro allows you to easily delegate calendar events creation from your site frontend. This involves creating a new Joomla user group. You then assign your events creator to this new group and give them permission Create > Allowed in JCal Pro own ACL. You finish this task by creating a frontend navigation menu item by the JCal Pro > Add New Event type.