Free Joomla Webinar by Barrie North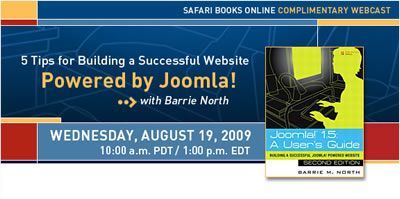 Have 60 minutes to learn more about Joomla from Barrie North, author of Joomla! 1.5- A User's Guide: Building a Successful Joomla! Powered Website?
Then sign up today for the upcoming webinar "5 Tips for Building a Successful Website!"
The first 10 people to register for the webcast will receive a free autographed copy of Joomla! 1.5 - A User's Guide: Building a Successful Joomla! Powered Website, 2nd Edition. You must "attend" the webinar in order to win.
During this 60-minute webcast you will learn the tips, tricks and problem-solving solutions covering:
How to build Joomla! sites from scratch and customize them
Create dynamic pages and effective navigation
Optimize your Joomla! site for search engines
Identify the most valuable Joomla! extensions and add-ons
Not picked up your copy of the book? Buy it today from Amazon for just $29! And see you on August 19th!
Update
Over 90 Joomla users attended the webinar, and we looked at all sort of topics, including a sneak peek at Joomla 1.6!
Why do you need a website, and why use Joomla?
What actually is Joomla?
How do I install Joomla?
How should I set up my site?
Picking a Template
Organizing Content
Creating Navigation
How can I add features to my site?
How can I make Joomla better for SEO?
How do I keep my site updated, and what lies ahead (Joomla 1.6)
You can view the "slides" at:
The actual recording will soon be available at Safari books.
Thanks for everyone that attended and asked such great questions!