Create a Joomla School site in Minutes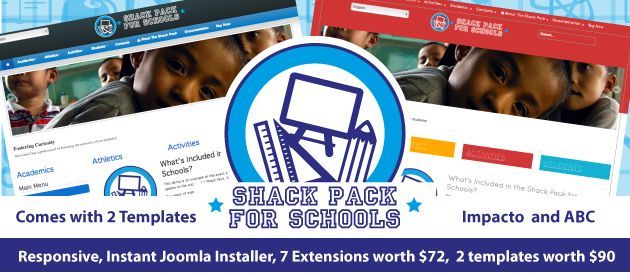 Struggling to set up a School Joomla website? Get a complete responsive and multilingual website specifically designed for schools with 7 top extensions installed and configured.
School Websites need to be content rich, easily managed, and constantly updated. For that reason, since the launch of the Joomla project in 2005 school website admins have found a perfect fit with Joomla as a CMS. So a preconfigured, diagrammed, and structured school website packet makes perfect sense and saves the developer hours and hours of development and tweaking.
This is why back in 2007 we introduced the first Shack Pack for Schools
We are very excited to have updated this great product. We hope to help beginners and intermediates (or busy people) build a new School Website or bring their existing one up to date.
Our team of Joomla experts has been hard at work creating a top-of-the-line Joomla website specific to school websites. The goal was to create a headstart for you so you could instantly start working on content, not dealing with the headaches of setting up and configuring the site. The tasks involved included:
Research and review of the needs of schools (two of us are former teachers!)
Creating a suitable content organization (categories for content), site map and navigation for a school
Seeking out the best and most reliable extensions
Installing and configuring them all to work together, with Joomla and with the template
2 Responsive Joomla 2.5 Templates Included. What else?
Instant Joomla installer to create the full example site with content and structure. You'll start with a site that looks exactly like our "Shack Pack for Schools" demo.
Extensions - Several useful extensions have been included, configured, and installed including 3 top selling Joomlashack extensions worth $72 and another 4 top-rated and free Joomla Extensions!
Our best selling, Responsive, and Bootstrapped Impacto and ABC templates, a $90 value with four color packs included!
For just $117, you'll get a complete Joomla school website ready for your immediate tweaking and configuration.
More than Content, 7 Extensions ($72 Value) Too!
Besides the content, menu structure, and instant configuration, as well as the $90 (worth) ABC and Impacto templates, you'll get these excellent Joomla tools. That's $72 worth of commercial extensions, plus some of the industry leading free extensions, all installed, configured, and ready for your tweaks and changes!
It's Multilingual Too - También es Multilenguaje
Your school website needs to be multilingual and we worked this out for you too. Look at the top right hand corner of the DEMO and you will see the "español" / "english" options.

The Shack Pack installs on your Joomla-ready server in a few easy clicks.
Invest $117 and you'll be many hours closer to having your school website up and running AND looking professional. The Shack Pack for Schools is thousands of hours of Joomla expertise and experience squeezed into a single downloadable file.
We think that this packet is exactly what you need to get started with Joomla. Think of it as the ultimate beginners kit. Thousands of hours of Joomla expertise and experience squeezed into an example web site - The Joomlashack School Shack Pack.
Dont know how to use Joomla? No problem, weare Joomla Training Experts.
You may not be aware that Joomlashack is home to the world's most popuar online training site for Joomla: Joomlashack University. We have successfully taught thousands to build professional Joomla sites since 2009. We do this through a collection of easy-to-follow video tutorials.

Special Shack-Pack and Joomla Newbie Promo
When you purchase a Shack Pack for Schools, you can get 20% off your entire order if you also purchase a subscription to Joomlashack University. Place the Shack-Pack in your cart and add the subscription of your choice: 1 month for $25/month; 6 months for $99, or Lifetime for $399.
Testimonials
We think the time savings and the finished site are more than worth the price, so do some of our customers, here is what they have to say:
I have been waiting for a package like this. What a great idea. Thanks in advance and congrats on a great job!
Chris McNabb
I just wanted to thank you guys for a great start our school district's website. When I say "start" all we have to do is add our content. The install was extremely easy and the added manuals are going to be a great help. We plan on getting 12 more licenses for each of our schools once we have the district intranet site set up with our info and we are able to showcase the ease of operation to our Principles. You have saved us tons of work that we had planned on redesigning our website. I purchased the same manual from Joomla Shack separately a few weeks ago that is provided in the Shackpack and it has saved me countless hours of trying to figure out stuff on my own.
mtillman70
I've purchased the School Shack Pack this morning and I love it!
md75
This is truly incredible and wonderful. What a great idea. I get some requests now and then not only for school sites but for churches as well. I think the school template could even be adapted for public library sites. I am working very hard to learn to develop sites in Joomla and Joomlashack and CompassDesigns have been an amazing and invaluable source of information and assistance for me. Keep up the great work and thanks for all you do.
luciano991