Jamba! - A Free Joomla! 1.0 and Joomla! 1.5 Native Template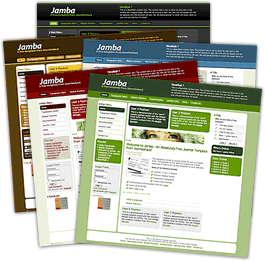 Jamba is our latest free template for Joomla!
You can use it ifor Joomla! 1.0 or Joomla! 1.5. Feel free to give it a whirl.
You can also install the Joomla! 1.0 QuickLauncher for a speedy Joomla! setup.
The Jamba template comes with a lot of the features you'll find in our professional Joomla templates such as:
5 theme styles
integrated typography styles
4 module colors in 9 module positions
Thanks for your continued support and Enjoy!