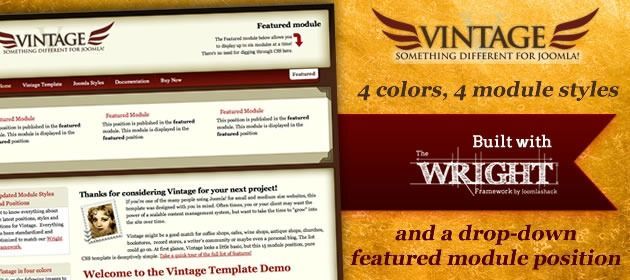 I don't know exactly what it is. Perhaps it's the timeless design, or the simplicity with which the module positions allow the designer to tell his or her story, or maybe it's the incredibly versatile antique look to it, Vintage has been a perennial bestseller loved by web-designers the world over. If you are a Developer Club Member, download it for free now.
A good thing got even better - now built on the Wright Framework
The Wright Framework is a major upgrade and outstanding value added to our Joomla Templates and the websites built upon it. The name is in honor of the famous architect, Frank Lloyd Wright and his minimalist style. In a Joomla Template, the Wright Framework is like a combination of a foundation and a blank blueprint. A solid and versatile foundation to build upon, and a blank and empty blueprint upon which the web designer can create his or her masterpiece.
Wright provides easy updates to New releases of Joomla
The Wright Framework also makes upgrading to new versions of Joomla something quick and easy. Joomla 2.5 was released January 24th, and by 1pm on that same day, Joomlashack had been able to update all it's Wright Joomla Templates to Joomla 2.5. To the web designer, this means less headaches and easier support for his clients.
Why should your next site be built on Wright?
Other Joomla Template Frameworks have taken what we believe to be the wrong approach to frameworks. They have integrated tons of unnecessary features that have made their frameworks bloated, fat, and slow. All these unnecessary features have also made their frameworks unreliable. There is simply a lot more stuff to go wrong in them and more stuff to update with each new Joomla release. To the web designer, all these features rarely contribute to the design process - - they are more of a restrain.
We believe that the framework should be minimalistic - - it should have the bare minimum to load and function. For example, we went through the framework's code over and over again removing unnecessary lines. Wright does provide a foundation of standard features, but more importantly, it makes it incredibly easy to add additional features. Namely, the ones you need and want.