Published on 09 July 2012
Details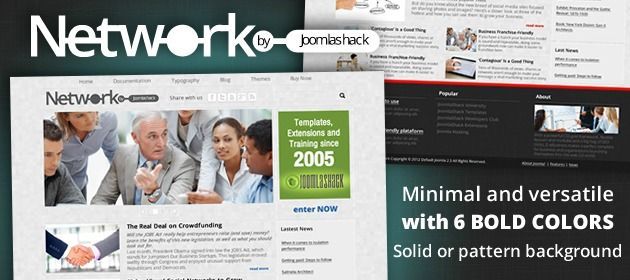 Business or Casual? A versatile Joomla Template
A good, well diagrammed, corporate or business themed Joomla Template like Network is worth its weight in gold. Because of the template's versatility, a good designer can use the same template for a number of clients and make this simple template look significantly different from client to client and from site to site.
Network is an adaptable, all purpose, and versatile Joomla Template and comes with 6 color, CSS3, and 12 collapsible module positions. Plus, you can easily customize the column layouts, background style, logo and other elements from the template parameters.
Reliable and quick-loading because its built on the Wright Framework
We believe that the Framework should be minimalistic - - it should have the bare minimum to load and function. For example, we went through the framework's code over and over again removing unnecessary lines. As a result, when compared with other Frameworks,
Sites built with Wright load quicker.
Wright is always the first to be updated when a new version of Joomla is released (once every 6 months).
Wright works reliably with the most popular and the obscure Joomla Extensions.