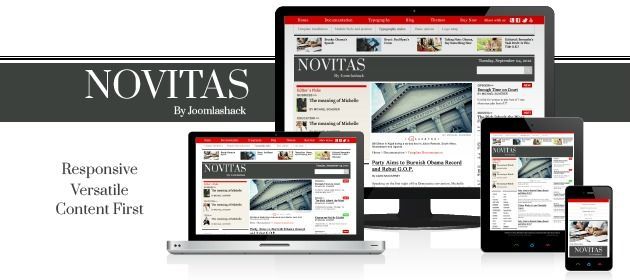 A Content First Joomla Template
If you are building a site you need to start thinking about content first and foremost. Content is king after all and essential for SEO. Novitas allows you to display lots of content with structure, clarity, and ease of use. It's content-first design allows you to display a large number of articles on the home page, each with it's H1, H2, or H3 title - - this is SEO gold.
Built on Wright 3.0
Novitas is not just another pretty face. Built on the Wright Framework v3, it is nimble, powerful and versatile. Did you know that Wright v3 is 60% lighter than Wright v2 - - and Wright v2 was already the lightest Framework in the industry! You know what else is essential for good SEO? A fast-loading site, of course.
Bootstrapped, Responsive, Mobile-Ready
You already know that Wright v3's responsiveness is based on Bootstrap from Twitter, just like Joomla 3.0 will be. This makes Novitas mobile-ready and future-proof. Novitas will display properly in any screen: from a smart-phone, to a tablet, to a large screen enabling your users to access all that great content we talked about. You can't go wrong with a template built on Wright v3.
Get Novitas Today.
All personal information you submit is encrypted through our secure checkout.