The OSToolbar is a great way to provide OSTraining videos to your customers.
You can give your webdesign customers over 40 Joomla videos, and they can all be watched directly from inside their site. No more confused phone calls. No more emails asking about simple Joomla features. Give them the OSToolbar, and they can watch and learn the Joomla basics for themselvesl The OSToolbar one of great benefits enjoyed by members at OSTraining.com.
Here's how to use the OSToolbar and give it to your customers.
Step 1: Download the OSToolbar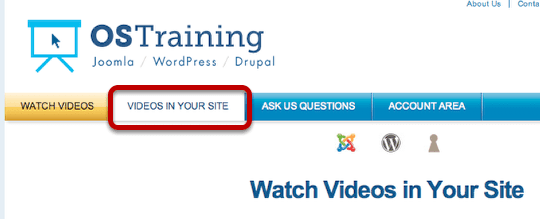 There are two things to do on this page:
Click Download OSToolbar to the get the files for the OSToolbar.
Copy your API Key. We're going to use that in a few moments, after the OSToolbar has been installed.

Step 2: Install the OSToolbar into a Joomla site
Login to your Joomla 2.5 site and go to Extensions > Extension Manager.
Browse to find the OSToolbar file that you just downloaded and click Upload & Install.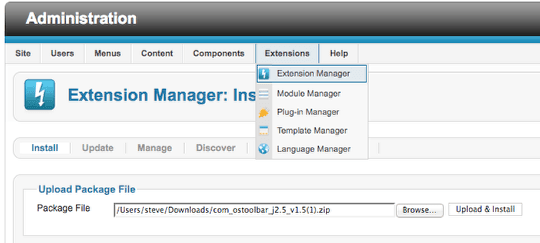 Click Components > OSToolbar to visit the component.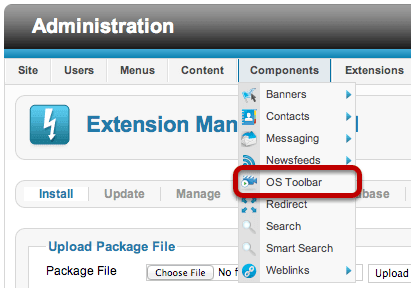 You can also access the OSToolbar via the main admin dashboard for your site. You can see the OSToolbar image below: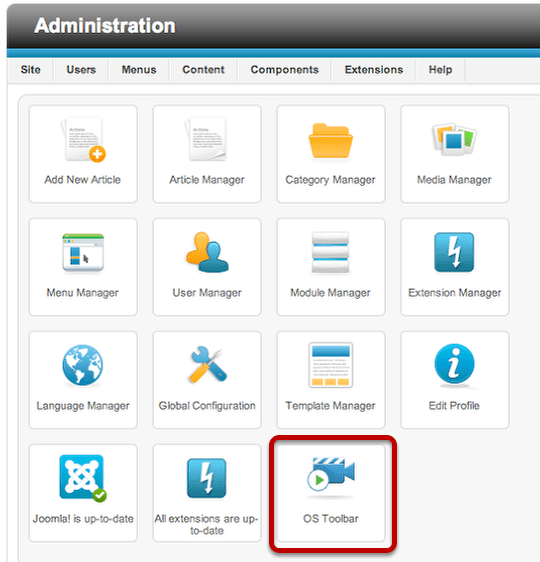 Step 3: Enter Your API Key
You'll now see a message that asks you enter an API Key.

Click Options in the top-right corner.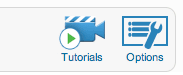 You can now enter your API key that you copied earlier:

Step 4: Starting Using the Videos!
You'll now see a list of over 40 videos that you and your clients can click and watch.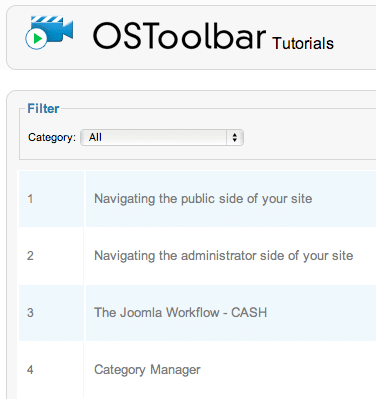 Click on any of the titles and the videos will start playing.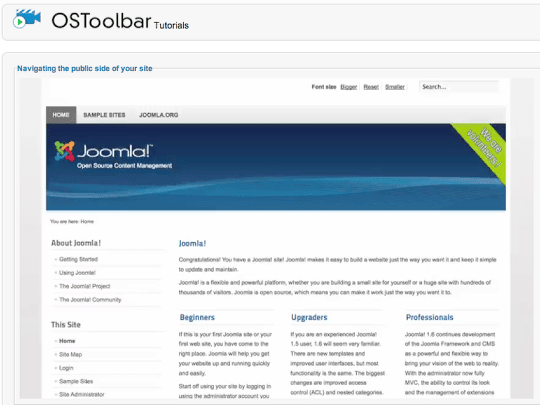 Question: How Many Sites Can I Use The OSToolbar On?
We built the OSToolbar so that webdesigners can provide their clients with great training videos.
You are welcome to install the OSToolbar on all of your own and your webdesign clients' websites.
Question: What Improvements Are Coming For The OSToolbar?
We have three features that we're working now:
More videos!
We aim to allow you to pick and choose which videos to show. If you don't want your client to see a particular video, you can hide it.
Add your own videos.