The Great Joomlashack Tweetaway using Twitter

Follow Joomlashack on Twitter and you might just find yourself winning awesome prizes- over a $1,000 given away yesterday. How do you get in on the next Joomlashack Tweetaway?
Yesterday Joomlashack held its first Tweetaway, and it didn't disappoint. Over a couple hours we gave away more than $1,000 worth of prizes, including: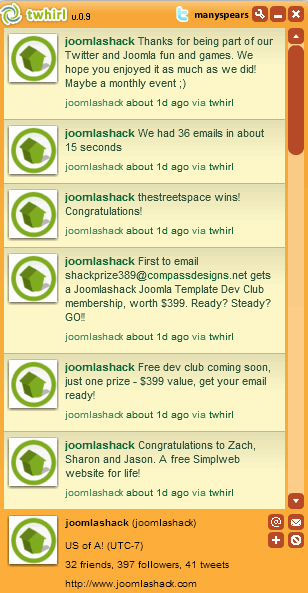 *Five copies of Inspirion, our new Joomla 1.5 template, at $39.95 each
*Five of any Joomla 1.5 commercial templates, at $39.95 each
*One Developer Club Membership, a $399 value!
*Three "Websites for Life" from our friends at Simplweb.com, valued at $24.99/month for the life of the website!
The response was brisk- for the Dev Club membership, 36 emails in 15 seconds! Over 100 Joomlashack followers partipated in all.
Take a look at Joomlashack's tweets (to the left) from yesterday to get a sense of the Tweetaway. The response was excellent- the number of Joomlashack followers doubled in less than a day!
Twitter is fast proving itself a game-changing platform for communicating with immediacy to an audience that wants to hear from you.
Not used Twitter and want to figure it out? Check out this excellent Twitter Tutorial from Web Designer Depot that we learned about yesterday. How? Someone tweeted it, of course!
Want to get in on the next Joomlashack Tweetaway, which could anytime in the next month? Follow us on Twitter, and also subscribe to the Joomlashack Email Newsletter, where we'll announce the contest at least a day ahead of time.
Now, go jump into the Twittersphere, and follow Joomlashack!