"Content is King." How many times have you heard it?
It's paraded around like a map to the holy grail, like some sacred piece of advice that will make all the bricks fall together and reveal the yellow brick road. It's advice from the wizard, don't you think? The man behind the curtain spouts out some vague yet wise sounding command and you nod your head, not wanting to say "But I don't understand, my content is great and yetyet, something is wrong. Something isn't bringing people to read it."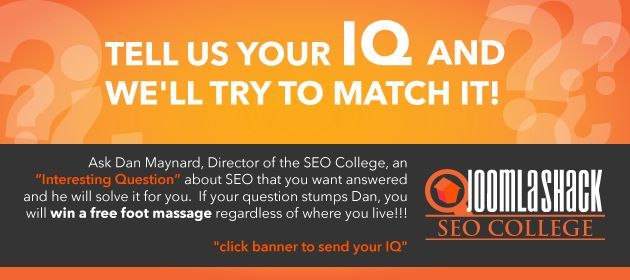 At Joomlashack we pride ourselves on our technical prowess with Joomla and I think its safe to say we're a pretty intelligent group. So we want to test that. Are you up to the IQ Challenge contest? Don't worry, We're not really going to test your IQ in the way you think. In fact, what we really mean is can you come up with a good search engine optimization question, meaning an "Interesting Question" or IQ that has you stumped and you would like or SEO College Director to solve? And if we can be so bold, we guarantee you we'll answer it with AI (answer with intelligence).
Ask your "Interesting Question" now
A Huge Opportunity: SEO for your YouTube videos
In less than a year the number of videos viewed each day on YouTube has grown over 30% to a staggering 4 billion views a day.
No other medium has grown so quickly in such a short time. Can you imagine? 72 hours of video are uploaded to YouTube every minute with over 13 million hours of video uploaded in 2011. With numbers like these, it's no wonder businesses and marketers alike are clamoring to find the best method to leverage YouTube to drive new and existing customers down the sales funnel to merchant bliss.
A Free SEO Site Review Every Month
One of the benefits of becoming an SEO College subscriber is to get your site reviewed by an SEO expert. Every month we give away among subscribers one Premium Site Review worth $175. An SEO Site Review from SEO College is money well invested. Here's your chance to look at one right below.

Joomlashack's SEO College Launches Today
We've been dilligently building content and we are now proud to announce the launch of our new school: The SEO College at Joomlashack. During the last few years we have taught thousands how to design great and reliable websites using Joomla, now it´s time to learn how to:
1. Get your sites found by search engines and the people you want. So you can:
2. Drive more traffic to your sites. In order to:
3. Increase your sites' conversions.