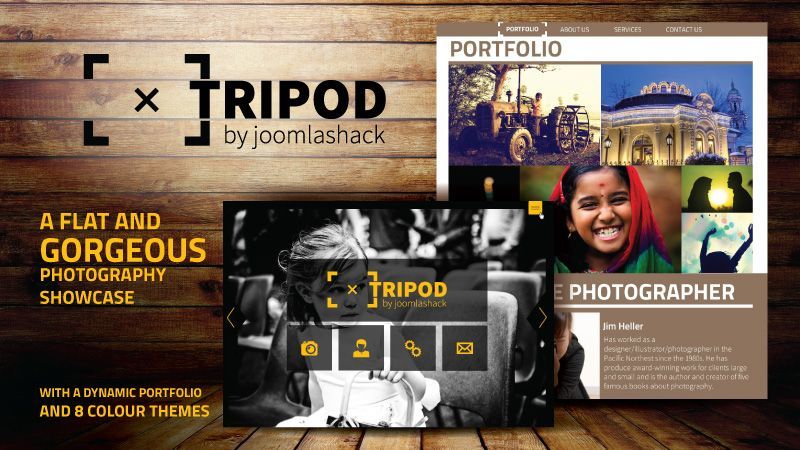 Tripod ~ a portfolio showcase Joomla Template
Tripod a Flat and Gorgeous Photography and Art Showcase
Tripod is a Joomla Template designed for any photographer, artist, creative studio, or marketing agency. Its layout ensures that your landing page starts to promote and showcase your work from the get-go. Tripod makes it is easy for you to configure a single-scrolling page website and gives your site's traffic a native and intuitive way to navigate through your work.
Even Easier to Set Up: Tripod includes a Quicklauncher
With Joomlashack's Quicklauncher, you can download and install Tripod as a Joomla installation with the template and content pre-configured as it looks and works on our demo*. This is extremely helpful as it allows you to just swap our demo content with yours without having to do heavy module configuring.
* Note: The quicklauncher was not designed to aid with updating existing sites. It is only suitable for new installations.
Interactive Effects
Dynamic portfolio: Let's your customers to be able to watch your photos and work in a full page manner.
One-scrolling page website: In this changing world, were every site is often navigated using only one thumb, this website takes advantage of this valuable feature and makes it easy for everyone.
View the demo with b/w AND color photographs
Tripod comes in eight different color palettes chosen from the inspiration of a photographer herself. Each palette can be displayed in our demo using black and white pictures or color ones. This makes the template extremely flexible for any type of website you need.
Yellow / Black
Black / Dark Gray
Blue / Cyan
Brown / Beige
Green / Gray
Red / Gray
White / Foil
White / Gray
Features
Tripod is different from other Joomla Templates we have because of these important features:
Elegant full-screen home page slideshow

Functional and easy-to-use single-page option with 8 colour themes (brief preview)


4 module styles
The "cherry on the top" of this template...
In this template we have created a special place for you and helping you to promote yourself and your work. Don't forget to search for your best angle and fill out this information.