10 Steps to Mastering Joomla
Written by Barrie North

Barrie North

Category: Joomla Tutorials Joomla Tutorials

Published: 19 August 2009

19 August 2009
So you want a website, and you have heard some of the buzz about open source.
Joomla, Drupal and Wordpress have all been mentioned, but you are lost and confused.
No problem, this guide is an easy 10 step process to getting started with building a website with Joomla and some insider tricks and tips to make sure you are making best use of it.
We are going to look at the following things:
Why do you need a website, and why use Joomla?
What actually is Joomla?
How do I install Joomla?
How should I set up my site?
Picking a Template
Organizing Content
Creating Navigation
How can I add features to my site?
How can I make Joomla better for SEO?
How do I keep my site updated, and what lies ahead (Joomla 1.6)
You think you need a website... but why?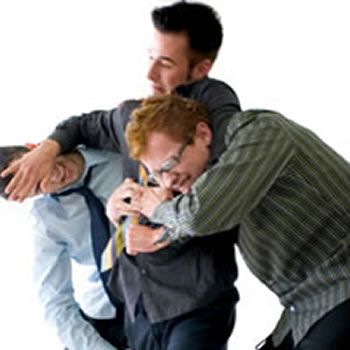 Unless you have clear goals, your website will not have any focus, and not contribute to your organization's goals.
A restaurant might want to increase onsite foot traffic
A non-profit might want to increase donations
A consultant might want to increase sales leads
A school might want to communicate better with parents
But unless you identify your goals, you are building your site blindfolded!
But what shall I use?
Joomla, Drupal or Wordpress?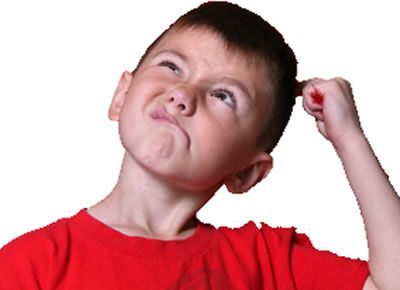 Joking aside, Joomla is an excellent solution that lies in the middle of Wordpress's ease of use and the flexibility of Drupal.
Resources
Joomla is an open source content management system.
So what does that mean?
Open Source means that anyone can contribute to the code, improve it, or distribute it. This means the platform is a living project being created and improved by a community of developers all over the world.
Let's look at a forum as an example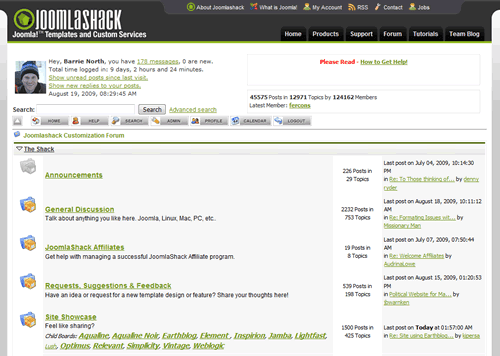 Joomla works the same way, the template creates "buckets" or "placeholders" for content, and then the CMS pours content into them as needed.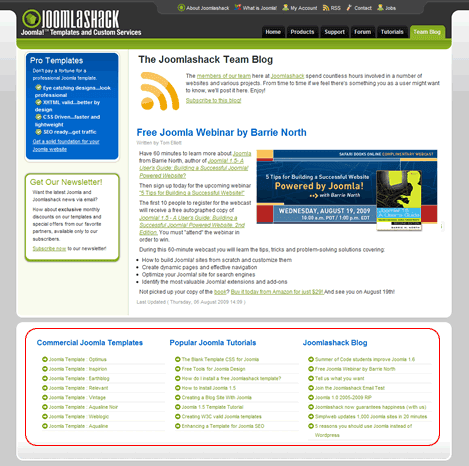 Here, the articles are being dynamically generated as well as the bottom lists of links.
Joomla is
Easy
Powerful
Cheap (not free!)
Barrie North's 80/20 rule
80% of what you want to do will take 20% of the effort
You don't really know what your site visitors want
Resources
To install Joomla, you need a web account with a MySQL database.
Or you can set up what is know as a localhost.
Download Joomla files
Either

Upload file package to server then extract
Extract then upload individual files

Create a database
Browse to site and run installation wizard
Pray to all you hold holy that permissions are ok
Delete installation folder
Resources
One of the hardest parts to Joomla is setting up the site. To start, there are so many options it an be overwhelming.
The three elements of a Joomla site are:
Template (the look and feel)
Content (the "beef")
Modules (the gravy round the outside)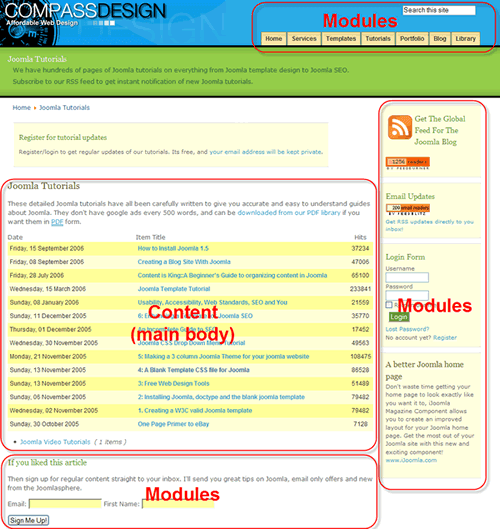 Joomla comes with three templates:
To get started, just use one of these, then you can graduate to a 3rd party template of which there are thousands. You can get free ones or professional ones ranging from $25-$70
Of course www.joomlashack.com, but others of mention:
www.joomlapraise.com
www.rockettheme.com
www.joomlart.com
www.joomlajunkie.com
Commercial innovation has driven Joomla templates much quicker than some other content management systems.
The main "meat" content is made up of articles.
Content, or articles need containers, these are called Sections and Categories, and must be set up first.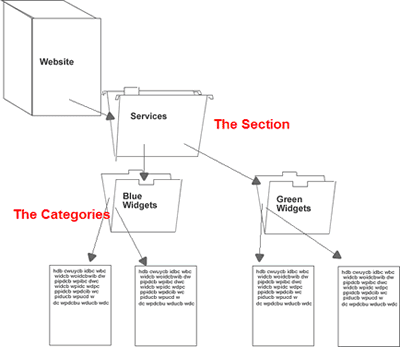 Nothing can been seen on the webpage until it is linked to. Next you must set up navigation.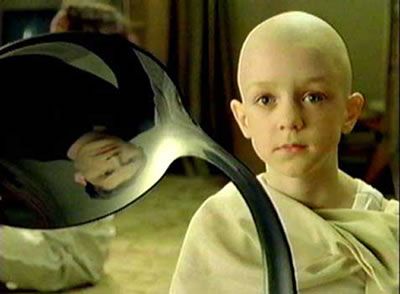 Joomla has thousands of 3rd party extensions, from forums and shopping carts to lacrosse league managers or women's menstrual cycle trackers.
Some are free, some are commercial. Some are GPL, some are proprietary (no, these are not the same thing!)
Lets add some extensions!
Resources
Joomla holds its own for SEO!
Joomla has something called SEF (Search Engine Friendly URL's) that turns complex url's into easy to understand ones.
Google doesn't care now anywhere, so SEO is not SEF.

Keyword Use in Title Tag (4.9)
Global Link Popularity of Site (4.5)
Anchor Text of Inbound Link (4.4)
Link Popularity within the Site's Internal Link Structure (4.1)
Age of Site (4)
Topical Relevance of Inbound Links to Site (3.9)
Link Popularity of Site in Topical Community (3.9)
Keyword Use in Body Text (3.9)
Global Link Popularity of Linking Site (3.7)
Topical Relationship of Linking Page (3.6)
Source:http://www.seomoz.org/article/search-ranking-factors
Concentrate on creating relevant titles for your articles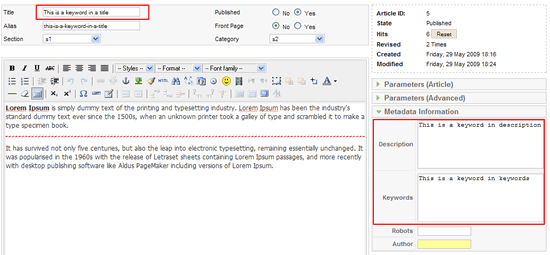 This will mean your pages have a strong foundation for SEO and will be accessible and usable.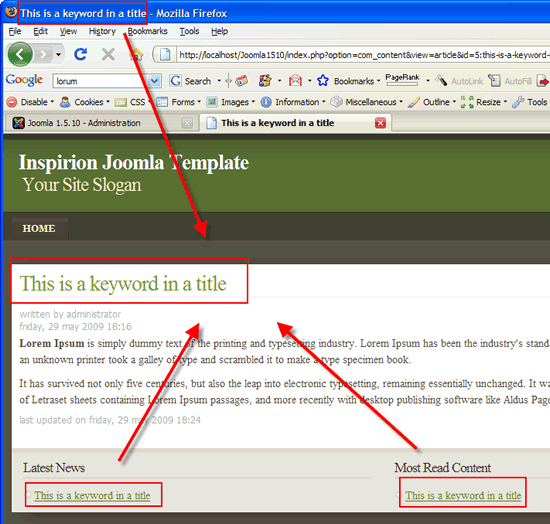 Resources
One of the challenges of open source is keeping up to date with the more frequent patches and security fixes. Someone on your team will have to know how to do these.
Joomla.org releases patches which are a bunch of files that need to be applied/ftp'ed onto your server.
Major releases come around every year or so with many new features. The current version is 1.5 and 1.6 will be released in the next 12 months.
There are some extensions and services that will keep you site updated for you.
Resources