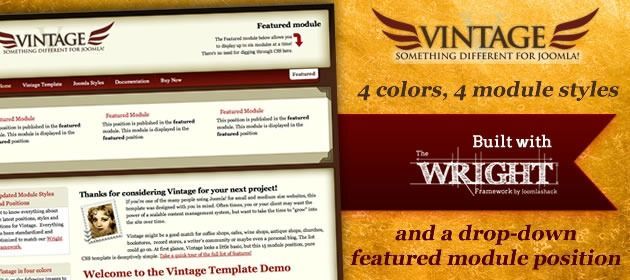 Vintage is one of our most loved Joomla Templates
I don't know exactly what it is. Perhaps it's the timeless design, or the simplicity with which the module positions allow the designer to tell his or her story, or maybe it's the incredibly versatile antique look to it, Vintage has been a perennial bestseller loved by web-designers the world over. If you are a Developer Club Member, download it for free now.
A good thing got even better - now built on the Wright Framework
The Wright Framework is a major upgrade and outstanding value added to our Joomla Templates and the websites built upon it. The name is in honor of the famous architect, Frank Lloyd Wright and his minimalist style. In a Joomla Template, the Wright Framework is like a combination of a foundation and a blank blueprint. A solid and versatile foundation to build upon, and a blank and empty blueprint upon which the web designer can create his or her masterpiece.