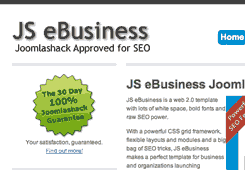 Need a rock solid template and SEO platform for your Joomla website? You need the latest Joomla template from Joomlashack - JS eBusiness
JS eBusiness is a web 2.0 template with lots of white space, bold fonts and raw SEO power.
With a powerful CSS grid framework, flexible layouts and modules and a big bag of SEO tricks, JS eBusiness makes a perfect Joomla template for business and organizations launching themselves into the web 2.0 world.
Write comment (0 Comments)