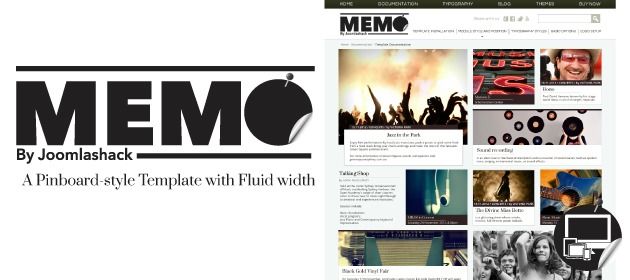 Happy, Happy, Joy, Joy - a New Joomla Template!
We are proud to bring you this awesome new Joomla Template. You may have seen other "Pinterest-Style" templates, but we have worked hard to make this one unique - - we know you'll enjoy it. Stay tuned: we are already working on the next 3 works of art.
The Memo Plugin: Create a Pinboard out of Joomla Articles
Other Pinterest style Joomla Templates allow you to create your "pinboard" using modules, but we were not content with that. The Joomlashack Team put in the extra effort to create added functionality that enables this new Responsive Joomla Template to use regular Joomla articles to populate the pinboard - - see it HERE. The Memo plugin is extremely light thus avoiding innecessary animations.
Write comment (0 Comments)