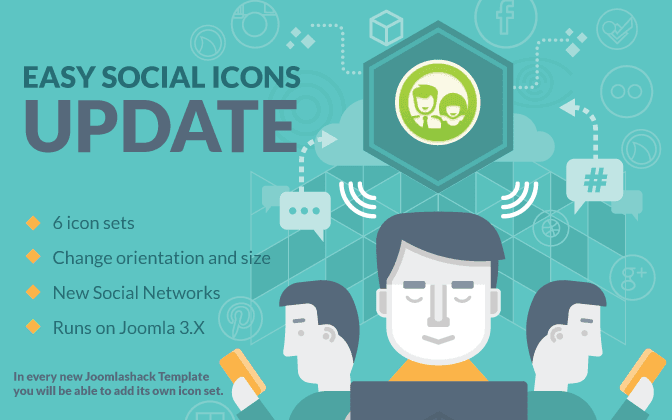 Updated and Optimized for Joomla 2.5.22 & 3.3.1
The team has been busy giving Easy Social Icons a great new update. It now works seamlessly with the latest versions of Joomla, 2.5.22 & 3.3.1. Use it with all Joomla Templates to add cool and easy icon sets.

New Features and Social Icon Sets
A great value: Easy Social Icons contains 6 different icon sets that have now been updated and revised. These icon sets will give your site a classy look and a social capability. Our graphical design team worked hard to give the icons a fresh new look. They now include new Social Networks like Dribbble & Vine.

Easy Social Icons: Easily add icons for all of your social networks!
The Easy Social Icons Joomla module by Joomlashack is very easy to use:
Go to the configuration menu.

Add a link to your network(s).

Select the icon style, direction and order that best matches the look of your site.

Publish the module.
Do you know an easier way to add social networks to a site?
Write comment (0 Comments)