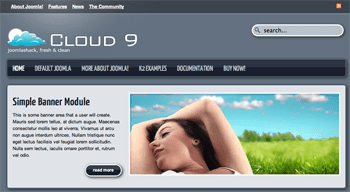 This week, we're on 'cloud nine' over the release of our latest Joomla template called...what else? Cloud 9!

Cloud Nine = A state of happiness, ecstasy, elation or bliss.

Cloud 9 is a clean and colorful template as big, blue, and spacious as a Montana sky.

Cloud 9's sparse and modern design makes it the ideal template for a blog, personal site, or social networking site--where users want easy access to content...not clutter! And Cloud 9's no-bloat, SEO-optimized code will have your visitors ecstatic over how fast your site loads.
You'll be ecstatic, too, when you see all the cool additions and features we've packed into our Cloud 9 joomla template...
Write comment (0 Comments)