OSCampus allows you to offer certificates to online students. They will need to earn it by completing all the lessons and quizzes of a particular class.
In this tutorial, you will learn how to set up a certificate for OSCampus.
To make this work, you will need to have already created a class with lessons and a quiz.
Step #1. Customize the Certificate image
Click here to learn how to create your own certificate image.
Step #2. Install the TCPDF Library
Go to our TCPDF download page and download the TCPDF library. This library ensures your online students can download their certificate as a PDF file.
Install the plugin into your site.

Step #3. Upload the Certificate Image
In your Joomla control panel go to Extensions > OSCampus Pro > Options.
You will be taken to the OSCampus Configuration page. Click the Certificates tab.

Click Select and upload an image you are going to provide as a certificate.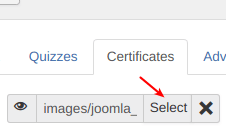 Step #4. Create a Menu Item
In Joomla control panel go to Menus > Add New Menu Item.
Create and publish a menu item of the OSCampus Pro > My Certificates type.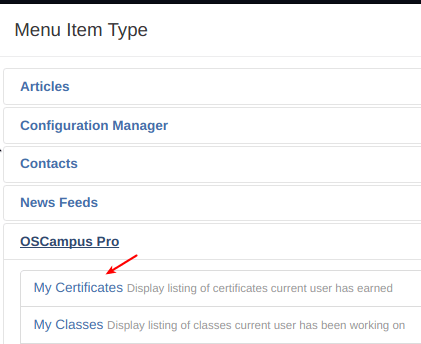 Once the students have successfull completed a class, this screen will show the certificates available for them to download.