Details

Published on 17/04/2007
Written by Barrie North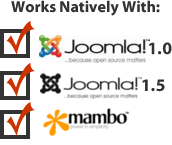 See our live demo to check out the great features of this template
Unparalleled Flexibility
This template is designed to deliver clean content for medium to large scale sites with complete user control over the look and feel of the final site. If you have an upcoming project such as a blog, educational, church, or technical related site, this template may be a good find for you. One of the major functions of this template is its ability to be heavily customized with minimal effort. Weblogic's user-configured template parameters allow you manage a great deal of the common changes designers (and clients) tend to make with template based designs.
Features:
Includes both Joomla! 1.0 and 1.5 Native versions
Customizable Layout Styles - (choose which order the module/content columns are rendered)
Customizable Module Widths - (change the width of any column)
Fixed or Fluid Layout - (changes the way the template fills the browser)
Multiple Menu Styles - (choose from dropline or dropdown menu)
5 Module Styles in 10 Positions - (flexible publishing options)
Typography Integration - (includes classes for common XHTML code)
Transparent Teaser - (browser-safe PNG transparency support)
Commented Styles.css - (easily modify text and body colors)
Fireworks Graphic Source Files - (Easily change the graphic gradients and image colors)
SEO Optimized Header - (properly linked H1 anchor header and title)
5 Color Styles - (pre styled color packs)
QuickLauncher - (template and content ready out of the box!)
Valid XHTML
Valid CSS
All personal information you submit is encrypted through our secure checkout. We do not store any credit card information.