Lifestream - Social Media Updates in Joomla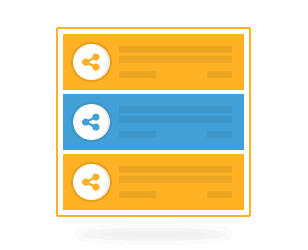 Joomla 3
Using Lifestream you can link to your accounts by simply entering your username. Once you save a stream, it is available to be added to a collection (which is a group of streams) or displayed on its own.
Some sites, like Facebook, require some extra authentication to work, which Lifestream helps you with.
Lots of options
With 3 kinds of modules and 4 component view types, you have plenty of ways to display your streams. We provide a couple of base themes you can use to style them, but you can disable them and easily set up your own with some CSS.
Displaying streams
Streams can be organized into collections, or displayed singularly. You can make a menu link to Lifestream, or display streams in a module anywhere you like. Collections can be displayed in a tab, grid, or integrated layout options, in either the module or menu link. There are options on how to organize, arrange, and display your streams, and the styling can be easily overriddeen with your own CSS styling.
Custom formatting
If you like the way Lifestream looks by default, you can just plug in your streams and go. However you are able to change the way everything is formatted. Each plugin comes with a way to customize the format of each stream item--for example, if you want to remove the icon or timestamp. Also with several style options, you can choose one of the default ones or disable it and create your own.
Why get Lifestream Pro?

If you buy Lifestream Pro you'll get a great extension with easy to use features, plus fast and advanced technical support.
Save $270

Get all our Pro extensions for $129

21 social providers
Manage Streams
Manage Collections of Streams
Plugins for social networks
Module for Streams
Access & Support
Pro features
Pro downloads

and Updates

Easy updates

from the admin

Priority, personal support
---
Do you need help?
Like this extension? Leave a review on the JED