Lifestream - Social Media Updates in Joomla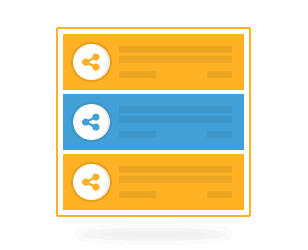 Joomla 3
Have you ever tried showing your latest tweets, Facebook posts or Instagram photo in Joomla? It can be a painful process!
Lifestream makes showing your social streams super-easy. All you need is the URL and you can show almost anything on a Joomla site!
Using Lifestream, you can show your social updates from many, many different sources:
Delicious
Digg
Facebook
Flickr
Foursquare
Google+
Instagram
Joomla articles
K2 items
Last.fm
LinkedIn
Pandora
Posterous
RSS feeds
StumbleUpon
Tumblr
Twitter
Vimeo
YouTube
Lots of options
With 3 kinds of modules and 4 component view types, you have plenty of ways to display your social streams.
Your social streams can be displayed in a tab, grid, or other beautiful display options.
An important note about Lifestream
We are in the process of retiring Lifestream, in favor of OSEmbed. Lifestream is still available for now, but we would recommend using OSEmbed instead.
Save $238

Get access to every Joomlashack Pro extension for only $89

21 social providers
Manage Streams
Manage Collections of Streams
Plugins for social networks
Module for Streams
Access & Support
Pro features
Pro downloads

and Updates

Easy updates

from the admin

Priority, personal support
---
Do you need help?
Like this extension? Leave a review on the JED