Lifestream - Social Media Updates in Joomla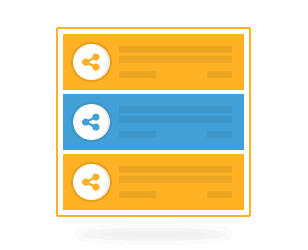 Joomla 3
Have you ever tried showing your latest tweets, Facebook posts or Instagram photo in Joomla? It can be a painful process!
Lifestream makes showing your social streams super-easy. All you need is the URL and you can show almost anything on a Joomla site!
Using Lifestream, you can show your social updates from many, many different sources:
Delicious
Digg
Facebook
Flickr
Foursquare
Google+
Instagram
Joomla articles
K2 items
Last.fm
LinkedIn
Pandora
Posterous
RSS feeds
StumbleUpon
Tumblr
Twitter
Vimeo
YouTube
Lots of options
With 3 kinds of modules and 4 component view types, you have plenty of ways to display your social streams.
Your social streams can be displayed in a tab, grid, or other beautiful display options.
Why get Lifestream Pro?

If you buy Lifestream Pro, you'll get a great extension with easy to use features, plus fast and advanced technical support.
Save $335

Get all our Pro extensions for $129

21 social providers
Manage Streams
Manage Collections of Streams
Plugins for social networks
Module for Streams
Access & Support
Pro features
Pro downloads

and Updates

Easy updates

from the admin

Priority, personal support
---
Do you need help?
Like this extension? Leave a review on the JED