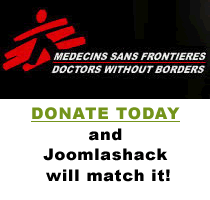 Joomlashack's annual holiday charitable campaign is back with a new twist: We'll match your donations!
For the fourth year, Joomlashack is rallying our community to support a worthy charity during the holiday season.
This year we're supporting the important humanitarian efforts of Doctors without Borders (aka Médecins Sans Frontières, or MSF.)
For every dollar contributed by our community, Joomlashack will match up to a total of $1,000. Other partners may match even more!
What is Médecins Sans Frontières?
As Brian Teeman, organizer of the larger effort, put it on his initial call to action:
MSF an international, non-denominational, non-political humanitarian aid organisation that provides emergency medical assistance to populations in danger in more than 80 countries.

MSF are committed to two objectives: providing medical aid wherever needed, regardless of race, religion, politics or gender; and raising awareness of the plight of people they help. MSF has been setting up emergency medical aid missions around the world since 1971.

MSF works in rehabilitation of hospitals and dispensaries, vaccination programmes and water and sanitation projects. MSF also works in remote health care centres, slum areas and provides training of local personnel. All this is done with the objective of rebuilding health structures to acceptable levels.

What can MSF do with your donations? [See Brian's list on his post.]
Learn more about MSF or Donate Today
About Joomlashack's Annual Holiday Charitable Giving Program
As an international team of former teachers and nonprofit volunteers, supporting humanitarian aid through MSF is a natural way for Joomlashack to give back.
In year's past, Joomlashack has conducted an annual Charity Contest to bring attention and resources to nonprofit NGOs nominated and supported by our community. We're proud of our previous efforts, and are pleased that so many nonprofits received a helpful spotlight because of it.
In 2009 , we've decided that a single, collective effort to support MSF is the best way to generate the most support for an excellent charitable cause.
Thanks to Brian and all the Joomla community members supporting MSF this holiday season. Great idea!
Won't you join Joomlashack in supporting MSF? Donate today!