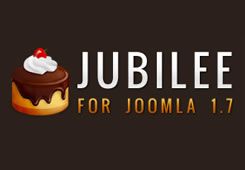 Jubilee. It's delicious and free!
Dig in and download our latest Free Joomla Template treat, Jubilee. You'll LOVE how it's rich on features, yet lightweight (bloat-free code) and easy on your pocketbook (FREE!).
Jubilee's recipe is no secret and we're proud to say it contains:
14 Module Positions The module positions are topmenu, search, menu, left, right, above, below, bottommenu, footer, modules-1, modules-2, modules-3 or modules-4.
3 flavors to choose from including chocolate, strawberry, mint.
960 Grid-powered Jubilee uses the popular 960 grid to achieve its sophisticated layout options. The 960 grid promotes balance, consistent white space, and usability.
CSS3 fueled CSS3 styles that degrade gracefully for older browsers
Built in Sliderman Slideshow No need to install anything extra, the Jubilee template comes with the template and will show up on the homepage.
Jubilee comes in 3 flavors with an ample white space design. Chocolate, Strawberry, and Mint - ALL for free!
The following is included with the purchase of your template:
The template install file.
Installation and configuration support and advice.
Source Graphics (but in most cases not the placeholder images) used to create the template, allowing easy customization of template graphics.
A guarantee the template will work as promised with default Joomla, and that bugs in this template if found will be fixed in a timely manner.
Color Options
Click on a template thumbnail below to view the demo in that style.