Formula
Details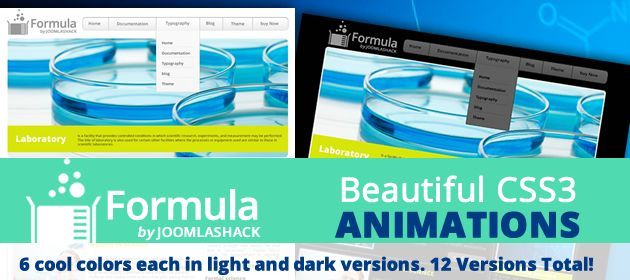 Our Formula Joomla Template is a Recipe for Success
Give your website a healthy start by using the right Joomla Template - - the right Formula. Joomlashack's Formula was built using the reliable Wright Framework. It comes with 6 cool colors each in light and dark versions and with some cool CSS3 animations.
Formula, your Clean and Minimalist Canvas
Doohickeys, doodahs, and gizmos are all nice and well when you want them, but sometimes you need a nice, well diagramed and clean space to communicate an idea properly and without distractions. Formula will not get in the way of your master plan. It provides the developer with an almost perfect, pure, and minimalist canvas. It can be molded and designed to fit a great selection of themes.
Features
6 Color Cominations in light and dark options, for a total of 12 color options!
Elegant typography.
One Zip file for 1.5/2.5
Styles for Shackslides image slider (sold separately)
Progressive enhancements.
Custom module chrome.


Color Options
Below you can see the different styles available with this template. Click on each image to see the style in effect.
What module positions are in this template?
formula supports several module positions. View the module map for a look at the positions in use