Your membership gives you full access to all our templates!
New Joomla Extension - Easy Social Icons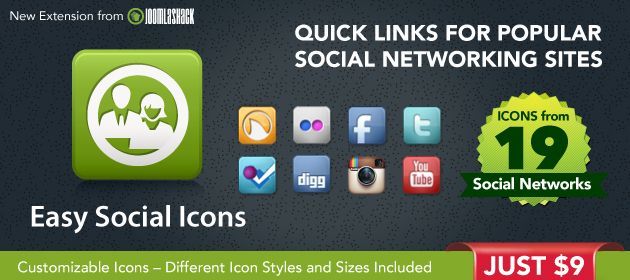 Easy Social Icons - Easily add icons for all of your social networks!
The Easy Social Icons Joomla module by Joomlashack is a simple way to add icons for all of your social networks. Simply add a link to your network(s), select your the icon style that best matches the look of your site, and publish the module.
Easy to Use, to Setup, and Customize
We didn't name it 'Easy' for nothing! With Easy Social Icons you can choose from 6 different icon set 'styles', choose horizontal or vertical presentation of the icons, add text before or after, and drag and drop the icons to arrange them in the order you prefer.
Lots of Social Networks Included - Just $9
We've included icons for the most popular social networks, including: Delicious, Digg, Facebook, Flickr, Foursquare, Google+, Grooveshark, Instagram, Lastfm, LinkedIn, Pandora, Picasa, Pinterest, Posterous, Stumbleupon, Tumblr, Twitter, Vimeo, Youtube
Get Easy Social Icons and ALL our Joomla Extensions
With our Developer Extension Clubs you can place a slideshow, an image manager, an HTML editor, a social media streaming tool, a social icon tool, and a social media plugin in every site you build - all for one great value - From $49.