Every time you create a Joomla site, you likely go through the same initial process: you determine menu items and navigation, you create categories for those items, and then you draft each item and page. This process is simple, it works, and it gets the content you want on the site.

But as you make the transition to Inbound Marketing via your website, you'll need to think a little differently about the process of creating (or updating) a site. Check out this infographic to better understand the anatomy of an Inbound website.
First, let's review: Inbound sites are the product of a careful science. They require us to go beyond the standard process of conceptualizing, outlining, and creating a site.
Effective Inbound strategies require a holistic look at the motivations, desires, and pain points of our site's visitors.
Before we get too far into how Inbound website components all play out in harmony, let's review some key themes to keep in mind throughout each step of implementation:
Be Informative - Inbound tactics all begin with incredible content that serves the informational needs of leads, prospects, and customers. Through unique and valuable content, you have the potential to reach more people in each of those groups.
Be User Friendly - providing a lot of information shouldn't be synonymous with overwhelming your audience. This is one of Inbound's biggest challenges to marketers and site owners: we must find the balance between providing a lot of content, and presenting that content in an easy-to-digest format.
Then, Be Search Engine friendly - No matter what you may have heard (or read), SEO is not dead. In fact, with over one billion searches conducted each day on Google alone, it's more important than ever that your site be easy for search engines to find, crawl, and index. But by all means, always optimize for the user experience first, and the search robots second.
Optimize for lead generation - You can't convert leads if you can't attract and gather their information first. The best Inbound websites incentivize visitors to provide their information with access to relevant and engaging content which meets their specific needs per their stage in the buying process.
That list alone is a lot to think about! Once you've wrapped your head around each big picture concept, you're ready to start exploring how they all fit together.
I recently came across the image below from Revenue River, which helps us visualize how that process looks: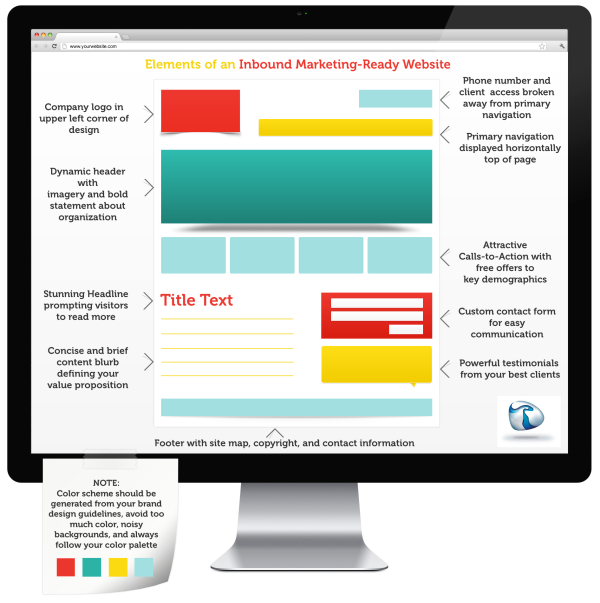 Pretty nifty, right? I especially like the note about color scheme. The colors your site presents play an often overlooked but incredibly powerful role in the message it conveys.