JAB 2011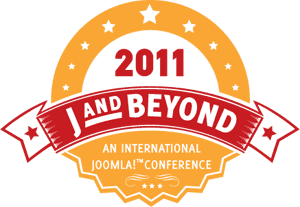 On May 6-8th Eddie, Jeremy and Myself, members of the Joomlashack team, had the pleasure of attending this years J and Beyond, an international Joomla Conference. The event was great. It was a weekend filled with the sharing of information and ideas through presentations, conversations, networking, and friendship building.
For those not familiar with the conference, this was only the second year J and Beyond has been held. This year the conference was held in Kekrade, Netherlands (different locale each year) and was attended by roughly 230 people from over 30 countries. Over the course of 3 days there were some 55 presentations attendees could choose from. There were some that were highly technical, some less so, and some 'round table' discussions about various topics. My favorite was 'the State of OSM' delivered by Ryan Ozimek.
For me, the highlight of the event was meeting and spending time with many people from the Joomlasphere with whom I've worked with and developed friendships and relationships over the years but had never been able to meet face-to-face. I am also excited about the new people I met and the new friendships I hope to develop.
The organizers of the event selected a beautiful location for the weekend, away from the hustle and bustle of a big city. We found ourselves in a medieval abbey named Rolduc which has been 'modernized' with all of the necessities to allow such an event to take place, hotel accommodations, meeting spaces, WiFi access (albeit spotty at times what with 230 geeks trying to access it at the same time) and more.
While much can be said about the event's success and happenings, I would leave that to those who are more adept at blogging and invite our readers to take a look at Brian Teeman's Blog, as well as the official J and Beyond site for more about the event (more blog posts sure to come).
The Joomlashack team would like to send a huge "Thank You" to the organizers of the JAB event, all of the volunteers who helped to make it happen, and the entire group of Joomla Community members who attended. We're already looking forward to JAB 12!