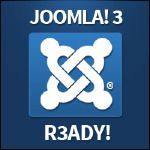 Joomla 3 is here and available for download.
We've said before that Joomla 3 is the biggest and best update to Joomla in several years. Now you can test it and see what we mean.
Here's our comprehensive overview of Joomla 3, what's new and how it impacts your site.
A Video on What's New in Joomla 3
Blog Posts on What's New in Joomla 3
Check out our blog posts explaining Joomla 3:
Can I Test Joomla 3 Anywhere?
Yes, we have a demo for you.
You can view the visitor area at: http://www.ostraining.net/joomla3/
You can login to the admin area at http://www.ostraining.net/joomla3/administrator
Username: demo
Password: demo
I'm on Joomla 2.5. What Should I Do?
Stay right where you are. Joomla 2.5 will be the officially recommended version until well into 2013.
When Joomla 3 is thoroughly road-tested and stable, it will be offered as a one-click update via your administrator area.
Here's a video explaining how Joomla's versions work:
Should I Use Joomla 3 On Live Sites?
Yes. Absolutely. There are some things to be aware of before you start:
This is Joomla 3.0.0. This is a stable version, but like the first version of anything, it will have bugs.
There are some extensions and templates available for Joomla 3, but not as many as for 2.5.
What is OSTraining Doing for Joomla 3 Training?
We have our first Joomla 3 class in the pipeline. Now that Joomla 3 is here, we're going to finish it and publish it very shortly.
We're also going to keep on producing Joomla 2.5 training for at least another year.