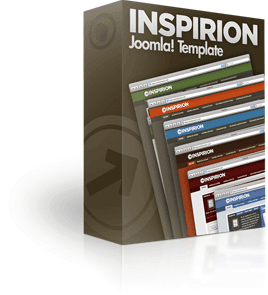 Got a medium-sized Web site in need of a good-looking template?
Our latest Joomla! template (Inspirion) is built on the popular 960 grid system. The 960 grid promotes balance, consistent white space, and usability.
Inspirion is XHTML Strict, CSS/Tableless, and makes use of semantic headings (h1-h3) Joomla! overrides for improved SEO.
Inspirion is medium-sized template integrated with IE transparency, CSS dropline menu system, excellent typography, and is available in multiple color styles (with PSD source).
Key features of Inspirion:
Joomla! 1.5 Native
Valid XHTML Strict/Transitional & CSS
Pure CSS Suckerfish Dropline Menu System
7 Bundled Color Themes
Serif/Sans Serif Typography
Enhanced Typography Styles
SEO Content Heading Overrides
Custom SEO Header
Integrated Support for transparent PNG images
Graphic Source File
960 Grid Framework
10 Module Positions
Inspirion is a native Joomla 1.5 template built to take advantage of 1.5's new templating features.
Joomla templates are fast becoming overloaded with widgets and code bloat. Inspirion is a refreshingly clean template that let's your all important content speak for your site, and not get buried under a distracting template. Built to be SEO optimized and take subtle advantage of Joomla 1.5's template override features, Inspirion will bring a professional finish to your site.
Learn more about Inspirion or buy all seven colors for only $39.95 today!