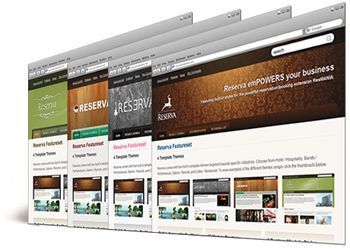 This week, we're excited to announce the release of our latest Joomlashack template called Reserva!
Reserva was designed for small businesses and individuals who not only want a stylish & sophisticated looking website, but want to give their visitors the ability to reserve rooms (hotels, motels, etc), reserve rental properties, book consulting time (financial planners, consultants, etc), book live performances (bands, comedians, etc)--or even make salon appointments directly from their website!
Imagine how Reserva could make your website work for you.
Reserva emPOWERs businesses...here's how:
Reserva
was built to showcase the power of a Joomla booking/reservation extension---like one of our favorites,
ResMania
.
Reserva
comes pre-loaded with exclusive
ResMania
styles,
12 module positions
,
customizable template parameters
, and
4 unique industry themes
(
salon/spa
,
hotel/motel/B&B
,
band/live performer
, and
cafe/restaurant
) you can use for inspiration when customizing your own reservation-enabled website.
But the cool thing is, you don't even need a reservation extension to use this awesome template.
Reserva
makes a great template for personal blogs, news sites or even non-profit sites (churches, charities, etc).


Reserva Key Features
Clean Typography Grid with Dozens of Bonus Styles
Reserva comes with exciting new custom template parameters that help you make your Reserva template unique.
Core SEO Improvements
Reserva comes with four built in template themes targeted towards specific industries.
Gorgeous typography styles
The Reserva template comes with 12 Module Positions.
Fast-loading, SEO-optimized.
And much more. Read full list of features here>
Check out the cool demo we have set up for Reserva--or cruise on over to the 'Shack store and grab your copy right now for just $47. No reservations are needed. ;)
All personal information you submit is encrypted through our secure checkout.
* Resmania booking/reservation software is a 3rd party extension and is not included with the Reserva template. If you wish to incorporate Resmania into your own website you will need to purchase a license from Resmania.com.