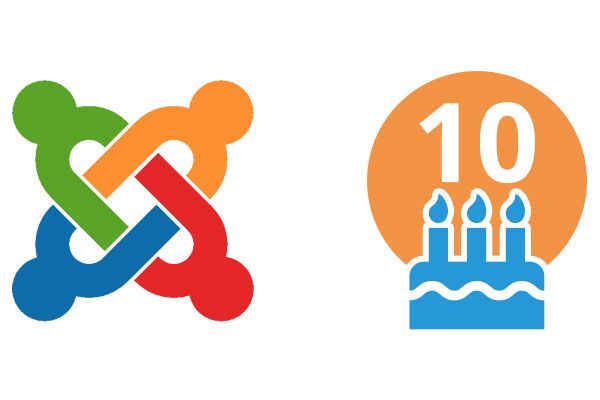 Joomla is celebrating it's 10th birthday this month.
When Joomla launched in 2005, it was a different internet. There were no iPhones, no Twitter, no Chrome, no Instagram. Social media, apps and the mobile web barely existed at all. It was a more innocent time online, before Edward Snowden and the NSA.
Fast forward 10 years and Joomla has changed many of our lives. I asked our team this question:
"What were you doing 10 years ago when Joomla arrived?".
Here are their answers. We'd love to hear your stories too - please post them in the comments.
Steve

I was standing in a classroom on the north side of Atlanta, Georgia. My job was teaching English to children from Central America whose parents had flocked to Atlanta, looking for construction jobs during the enormous housing boom. I remember the Joomla launch well. I found out about Joomla's arrival while sitting at my desk, grading papers during a lunch break. Teaching didn't pay much, so I had a webdesign business in the evening to make ends meet.
Rod

I was in Indiana, working as a Senior Director overseeing the web, radio and video departments for a large non-profit.
Bill

I was in Brattleboro, Vermont and getting ready to move to Boulder, Colorado. Just before the move I met Jen Kramer who got me started on Joomla. We began work for the University of Massachusetts, building a component for them. I learned to ski and started playing at mountain biking in the Rockies. A great year!
Valentin

I was in Mexico, doing my first websites in Frontpage and my second year in high school.
Eddie

We were opening our 3rd deli and wine store in Guatemala. We sold cheese, wine, chocolate and more. The company was growing and we sold it several years later.
Anderson

I was finishing my final project and writing my last term paper in order to graduate college in Brazil. I also passed the my final exam of my Classical Piano course, and got a girlfriend who is now my wife :D
Nick

I was just entering my Senior year of high school in a small town in Iowa.
Nancy

I was a stay-at home mom with two girls and working part-time as the marketing director for an educational non-profit. It was probably the first year I heard the term "education gap" which sparked my passion for equity in education. I was speaking at early childhood conferences about public playgroups and came across the Hart-Risley study. It inspired my county-wide public playgroup project and March of Dimes grant to benefit Hispanic mothers and children two years later. That eventually lead to my masters in 2013-2014.
Over to you
What were you doing 10 years ago, when the internet was young and Joomla first arrived?
Let us know in the comments below ...