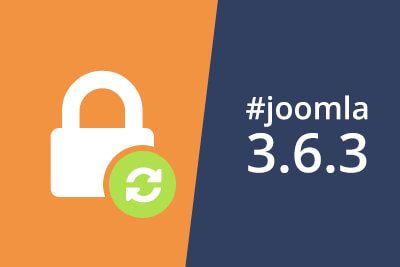 Joomla 3.6.3 was released on October 18th.
This is a bug-fix release that fixed over 300 issues. You can see the complete list of bug-fixes on Github.
As with any release, some users may see one or two glitches. In this post, we'll keep a list of any glitches that are reported.
Clear your cache
Some browsers heavily cache JavaScript. Joomla's Module Manager had some JavaScript code added to it in 3.6.3. As a result, if the old JavaScript file is cached, you won't be able to edit modules.
Clearing your browser cache fixes the issue. Also, if you had other admin layout issues, clearing the cache will likely fix those too.
Here's the bug report on Github.
"Must match character set"
If you get this error while logging into your admin, don't panic. The issue occurs when you're using 2-factor authentication.
There's an easy solution, and Joomla's developers will get it fixed likely in the next release. Here's the workaround:
Log in again, but without entering your secret key.
Disable 2-factor authentication for your user.
Re-enable 2-factor authentication for your user and enter a new key.
Here's the bug report on Github.
Error decoding JSON data: Syntax error
Update: We have a tutorial on how to fix this issue.
This issue can occur either on the back-end or front-end. Michael Babker, in the comments on this post, says the problem is caused by some 3rd party extensions with invalid JSON sources.
Only a couple of extensions have reported this issue so far:
If you know of any other extensions, please leave a comment below. We'll add it to the list. Thanks!
The only workaround is to disable these extensions. Joomla will likely release a fix for this issue soon. Hopefully, those extension developers will also release new versions of their extensions.
Updating from much older version of Joomla
There are special instructions if you're on Joomla 2.5 or a version of Joomla 3 that's 3.4 or earlier. Click here for those instructions.
Also, if you're on a very underpowered server, and get a timeout while updating, there's a workaround here.