Joomla has a component called "Multilingual Associations". This will make your life much easier if you build multi-lingual Joomla sites.
Before this component was added, there was no easy place to manage all of your translation items. Every translated item had to be found and edited individually. With the Multilingual Associations component, you will be able to edit all your translations in a single interface. This will save you a lot of time and energy.
---
Step #1. Enable the Item Associations
In this tutorial, I'm going to assume that your site already has more than one language installed. If you need help building a basic Joomla multi-lingual site, join Joomlashack University and you'll find detailed training for multi-lingual Joomla.
Go to Extensions > Plugins.
Search for the "System - Language Filter" plugin and open that plugin.
Make sure that plugin's Status is set to "Enabled"
Set Item Associations to "Yes"
Don't forget to save your plugin changes
---
Step #2. Create a translation for an article
For this example, we will translate an article using the "Associations" feature.
Go to Content > Articles, and edit your article.
You will see a new tab labeled as Associations, listing the current languages supported by your Joomla site.
Click on the Create button to create a new article in the desired language. In this example, we will translate the article into Spanish.

Add a title and content for your translation. The image below shows the Spanish version of the article.
Save your new article.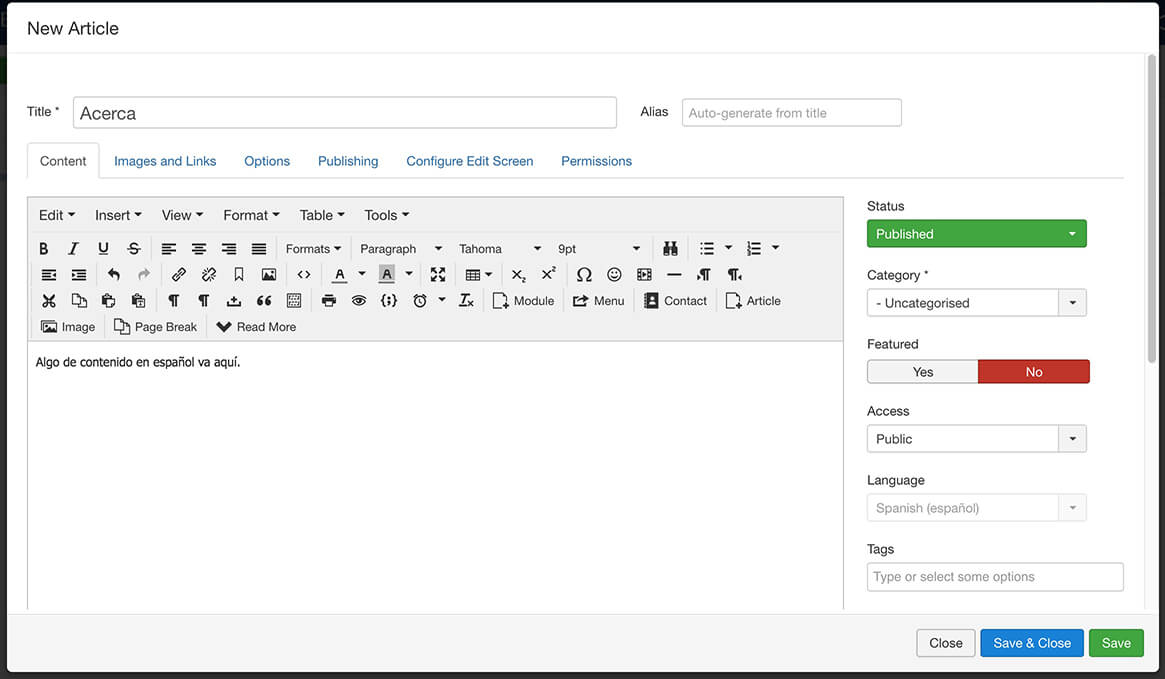 Click Save & Close to save the association.

---
Step #3. Use the Multilingual Associations component
Now look at how the new Multilingual Associations works.
Go to Components > Multilingual Associations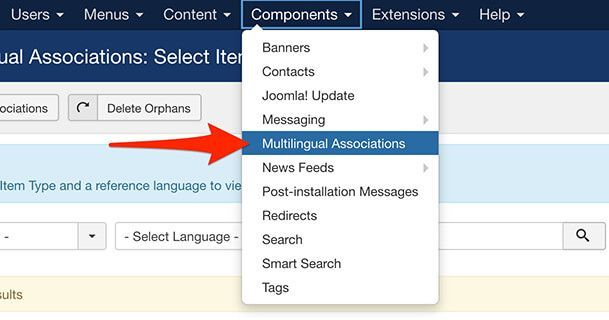 You will now see an overview of all the translations on your site. You will see several search options. You can filter by component, which in this example is "Articles". You can filter by language, which in this example is "English"

Click on one of the translation items from the list. In this example, the screen will load the article edit form for the English version only. However, we want to include the Spanish edit version too, so that we can edit both versions at the same time.
Click Select target language, in this case: "Spanish".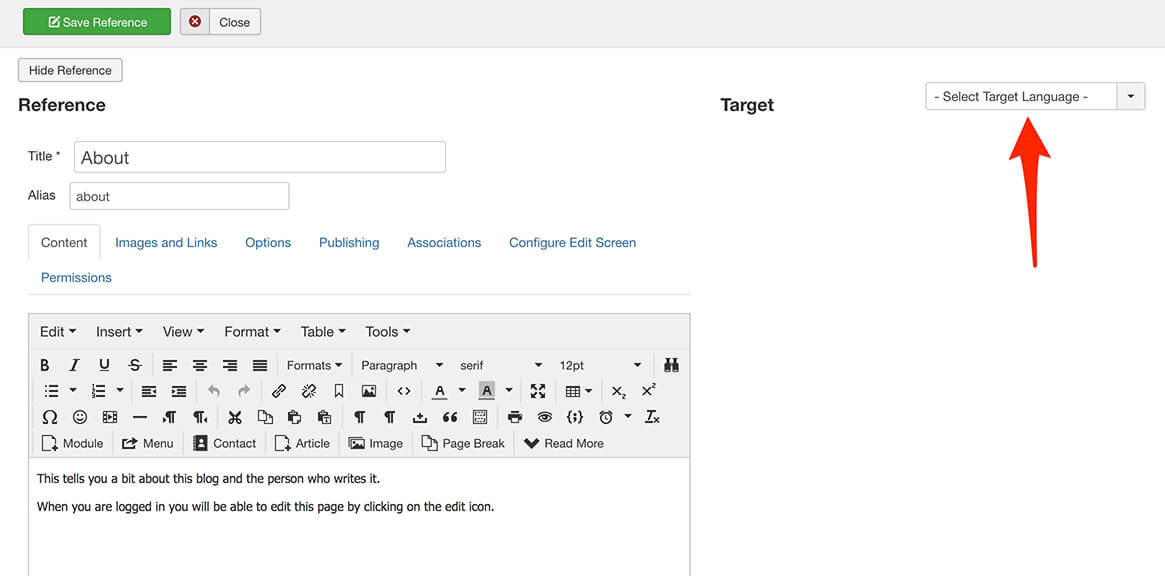 Now you can see that the Spanish article loads on the right side of the screen, next to the English version.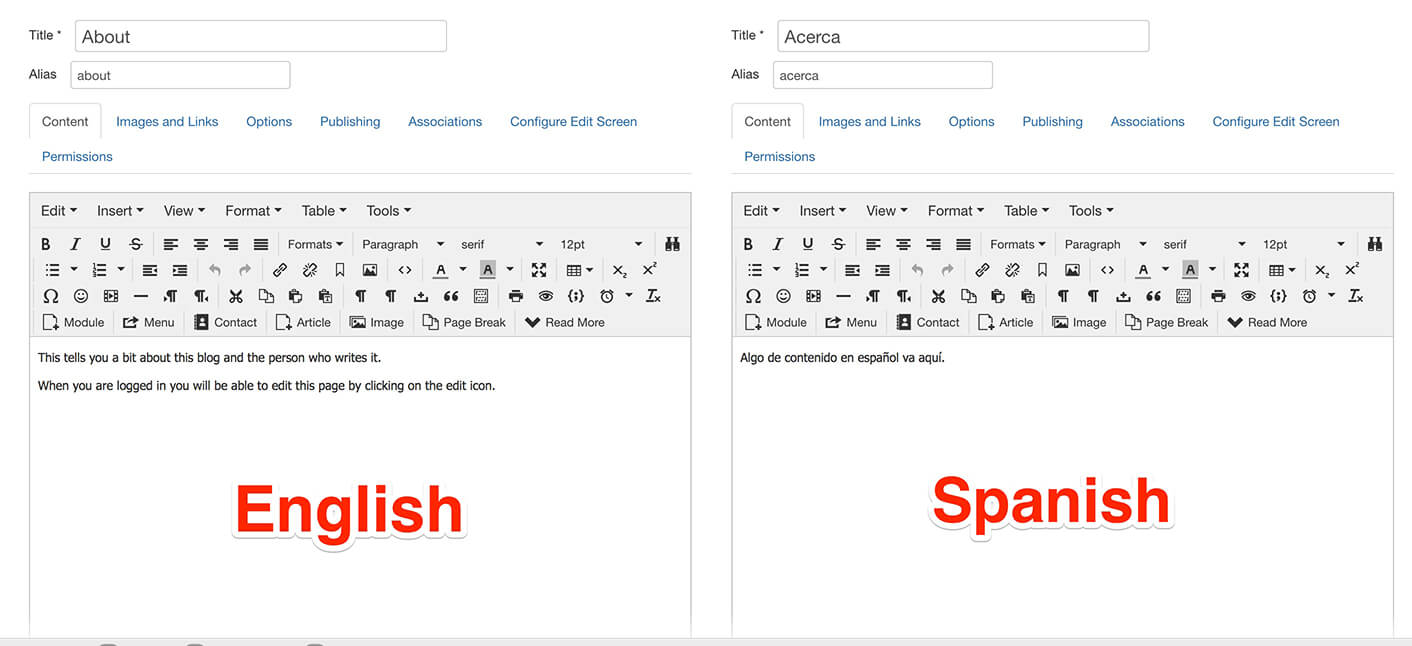 At this point, you can edit the articles according to your needs.
To save changes, you will notice there are two save buttons.
Save reference, to save the original article (in this example, it will be the English version).
Save target, to save the article loaded from the previous step (in this example, it will be the Spanish version).

That's it. I hope you agree this is a very useful feature for multi-lingual sites. Feel free to ask us any questions in the comments.