One of our users asked us how they could receive an email notification whenever a new user registered at their Joomla site.
In this tutorial, I will explain how to set up your Joomla site so that site administrators will get notifications of newly registered users.
---
Step #1. Update Joomla's User Options
Go to Users
Manage
Options

Be sure to set Allow User Registration to "Yes"
Choose the New user registration group. By default, this is set to "Registered".

Set New User Account Activation to "None" or "Self".
Set Notification Mail to Administrators to "Yes".

---
Step #2. Update Your Account Settings
Edit your Super User or Administrator account.
Go to Users
Manage
Your account

Set Receive System Emails as "yes"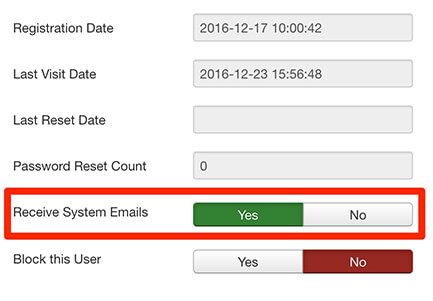 ---
Step #3. Test the Email Notifications
From now on, when a new user creates an account through front-end, a notification email will be sent to the administrators. Try a test email to make sure that it's working for you: