ABC
Details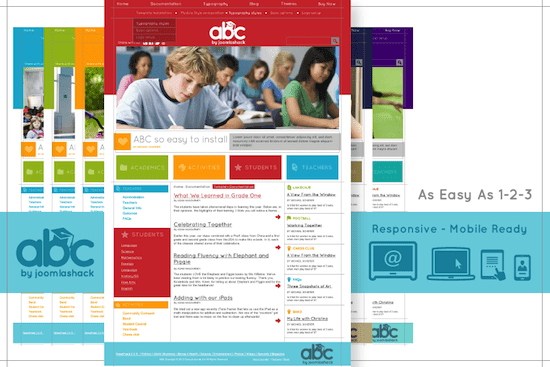 A Light and Fun Joomla Template
Don't let the school demo and graphics fool you. This practical Joomla template could be used for a myriad of websites. A collection of primary colors, rich typography, and basic design lend themselves to to be used in a fun and content rich site.
Key Features

Bonus Typography Styles
ABC is bundled with dozens of typographic preset styles to help make your content "pop". You will have access to many style options thanks to Boostrap from Twitter!

Single-click layouts
ABC allows you to easily change sidebar/column widths from the template interface, as well as moving the columns to provide a two left column, two right column, or traditional left / center / right column layout.

Six color packs
ABC ships with 6 default styles including layered Adobe graphic source files for designers who wish to easily mock up their own color combination.

Mega-Optimized for SEO
ABC is source ordered, truly semantic, HTML5 valid, lightweight, and search engine optimized.

Why Should you care what Framework your Joomla Template is built upon?
If you want your site to load quickly, then you need to have a Joomla Template built with a Framework that's Lightweight.
If you want your site to be able to run the latest version of Joomla, then you will need a Joomla Template built with a Future-Proof Framework that is quickly updated with each Joomla release.
Are all Template Frameworks built the same way?
Other Frameworks have taken what we are convinced is the wrong approach. They have integrated tons of features that have made their frameworks bloated, fat, slow, unreliable and tiresome to update and maintain. There is simply a lot more stuff to go wrong in them and more stuff to update with each new Joomla release. Soon you start to realize that when it comes to Frameworks: less is more.
Why is Joomlashack's Wright Framework Different?
We believe that the Framework should be minimalistic - - it should have the bare minimum to load and function. At 1.2Mb, Wright v1 was already the most lightweight Framework out there: Wright 3 tips the scales at just 563kb! As a result, when compared with other Frameworks,
Sites built with Wright load quicker.
Wright-built Joomla Templates are always the first to be updated when a new version of Joomla is released every 6 months.
Wright works reliably with the most popular and the obscure Joomla Extensions.
Sites built with Wright, are easier to migrate.
The Joomlashack Joomla Template - a "Strictly Joomla" Template
We build light, non-bloated, and simple to install Joomla Templates to make your life easier. We call them "strictly Joomla" because in most cases you are able to install them using only the Joomla CMS and it's built-in features. Other template companies usually require you to install extra plugins, extensions, and need a CCK to get your site to look like their template.
Experienced developers have loved our "Strictly Joomla" Templates since 2005 because:
You don't need to install heavy plugins or extensions to make the template work.
Less extra plugins and extensions means easier updates and maintenance as well as better compatibility with 3rd party extensions. 
Our template's low Javascript footprint gives your site the best universal browser results.
A light and quick-loading template / site is good for SEO.
Our templates make migrations easier.
The result is a more robust, more reliable, and easier to maintain site. 
Learn more about the Wright Framework, the lightest framework in the Joomlasphere.
The following is included with the purchase of your template:
The template install file.
Installation and configuration support and advice.
Source Graphics (but in most cases not the placeholder images) used to create the template, allowing easy customization of template graphics.
A guarantee the template will work as promised with default Joomla, and that bugs in this template if found will be fixed in a timely manner.
Access to the Community Forum for help with template setup, customization and Joomla usage.
Access to updates and support for 1 year after the date of purchase.
What's NOT Included
Joomla lessons and usage help.

showcaseExtensions

Joomlashack commercial extensions, such as:
Color Options
What module positions are in this template?
ABC supports 17 module positions. View the module map for a look at the positions in use.