Color Options
The Tripod template comes with 8 color themes.
What module positions are in this template?
Tripod supports 16 module positions. Click here to take a look at the positions in use.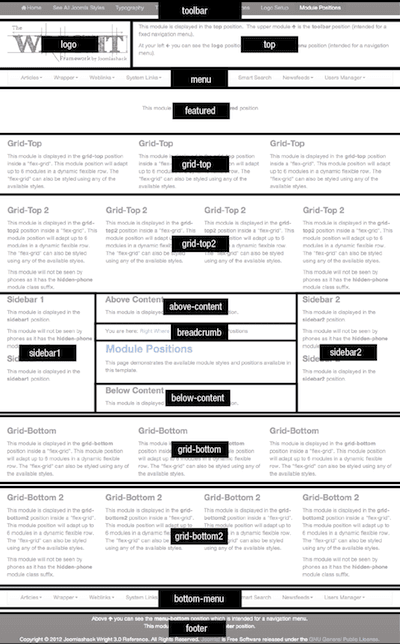 Tripod is a gorgeous Photography / Art showcase
Tripod is a Joomla Template designed for any photographer, creative studio, or marketing agency. It's layout ensures that your landing page starts to promote and showcase your work from the get-go. Tripod makes it is easy for you to configure a single-scrolling page website and gives your site's traffic a native and intuitive way to navigate through your work.
Interactive Effects
Dynamic portfolio: Let's your customers to be able to watch your photos and work in a full page manner.
One-scrolling page website: In this changing world, were every site is often navigated using only one thumb, this website takes advantage of this valuable feature and makes it easy for everyone.
View the demo with black & white, plus color photos
Tripod comes in eight different color palettes chosen from the inspiration of a photographer herself. Each palette can be displayed in our demo with black and white pictures and color ones. This makes the template extremely flexible for any type of website you need.
Yellow / Black
Black / Dark Gray
Blue / Cyan
Brown / Beige
Green / Gray
Red / Gray
White / Foil
White / Gray
Let your creative side of the brain start imagining your website!

Introducing Joomlashack's Wright Framework
This template is built using the Wright 3 Framework!
We believe that a template framework should be minimalistic - it should have the bare minimum to load and function. Wright 3 tips the scales at just 563kb! As a result, when compared with other frameworks:
Wright-built sites load more quickly.
Wright-built templates are always the first to be updated when a new version of Joomla is released.
Wright works reliably with the most popular and the obscure Joomla Extensions.
Sites built with Wright are easier to migrate.
The clean, lightweight Joomlashack approach
We build light, non-bloated, and simple to install Joomla Templates to make your life easier.
We call them "strictly Joomla", because in most cases you are able to install them using only Joomla and its core features.
Experienced developers have loved our "Strictly Joomla" Templates since 2005 because:
You don't need to install heavy plugins or extensions to make the template work.
Fewer extensions means easier updates and maintenance as well as better compatibility with 3rd party extensions.
Our template's low Javascript footprint gives your site the best results on all browsers.
A light and quick-loading site is good for SEO.
Our templates' simpler overrides reduce installation, support, upgrade, and maintenance needs.
How to get the Tripod Joomla template
Interested in more Joomla templates?
Check out over 20 responsive, fast and beautiful Joomla templates.