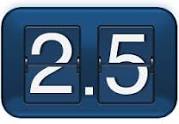 Today is a day that has been coming for a long time. We are saying goodbye to Joomla 2.5.
Joomla 2.5 reached end-of-life in December 2014. The JED removed Joomla 2.5 listings in June 2015. Now, in May 2016, it is time for us to move on.
We have hung on for longer than many other extension developers, but after this week we will not support Joomla 2.5.
If you are using our extensions on a Joomla 2.5 site, they will continue to work. However, we will not fix bugs and you will no longer see new updates.
Onward, with Joomla 3!