How to Add Custom Fields to Joomla Contact Forms
Written by Steve Burge

Steve Burge

Category: Joomla Tutorials Joomla Tutorials

Published: 23 May 2017

23 May 2017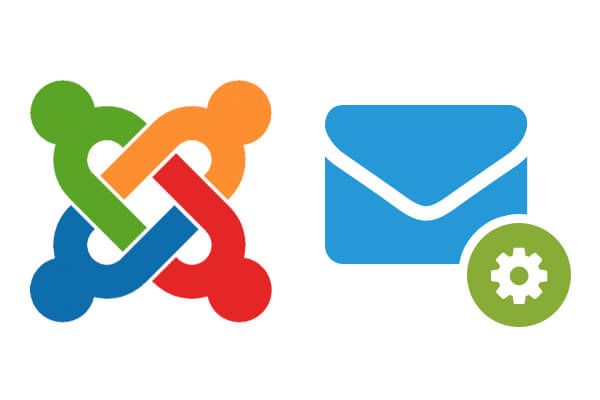 With the arrival of custom fields in Joomla, it's now possible to create much more powerful contact forms.
I'll walk you through the basics of creating a Joomla contact form, and then you'll see how to add fields.
The examples in this tutorial are taken from the upcoming new version of "Joomla 3 Explained", the best-selling Joomla book.
How to Create a Joomla Contact Form
In Joomla 3 Explained, we build a site for a city called "Joomlaville", so that's explains the naming system we use.
Go to "Components", then "Contacts".

Click "New".
Name: Joomlaville Mayor


Email: Enter your e-mail address into the Email field. This e-mail won't be made public, but whenever anyone uses the contact form, an e-mail gets sent to this address.

Category: Type Joomlaville Contacts and then click "Enter" or "Return" on your keyboard.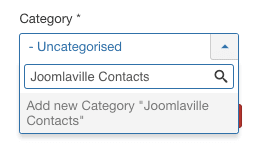 When all three fields are filled in, your screen should look like the one below.

We're also going to make a small option change. This is a design change because I personally think another layout is easier to read than the default Contacts layout:
Click the "Display" tab.

Set the "Display Format" option to "Plain", as shown in the figure below.

Now that you have your contact form ready, the final step is to make it publicly visible via a menu link. Because we already have a Contact Us menu link, we're going to edit that instead of adding a new link.
Go to "Menus, "Main Menu", then "Add New Menu Item".

Title: Contact
Menu Item Type: Single Contact
Select Contact: Joomlaville Mayor
Now visit the front of your site, and your contact form will look like the image below: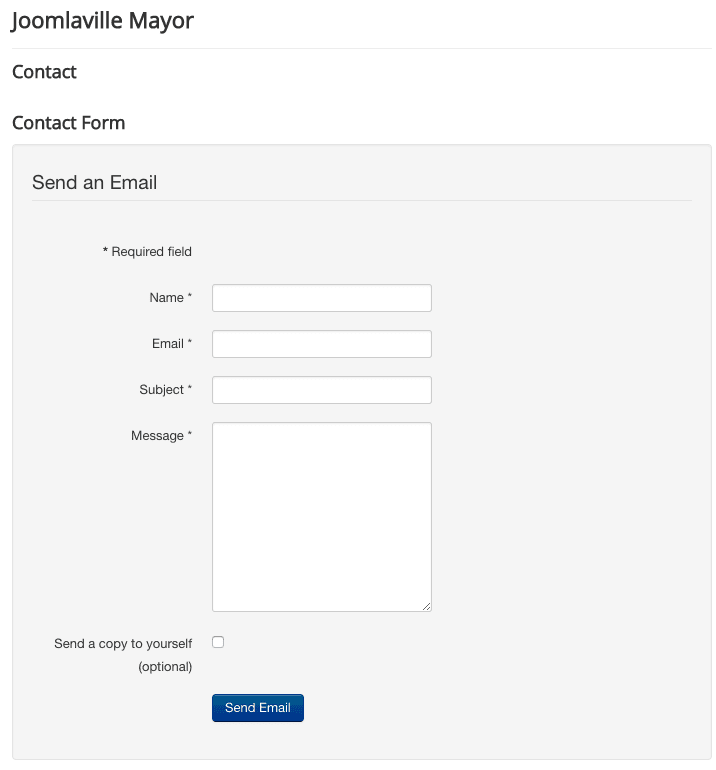 If anyone uses this form, you will now get an email that looks like this: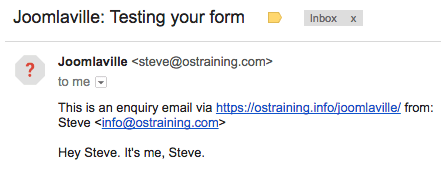 How to Use Administrator Fields
There are some useful features you can use to improve your form. For example, you can add more data about your organization:
Go to "Components", then "Contacts" and edit "Joomlaville Mayor".
You will see a variety of contact fields including Address, City or Suburb, State or Province, Telephone, and Website. The image below shows some sample data from OSTraining: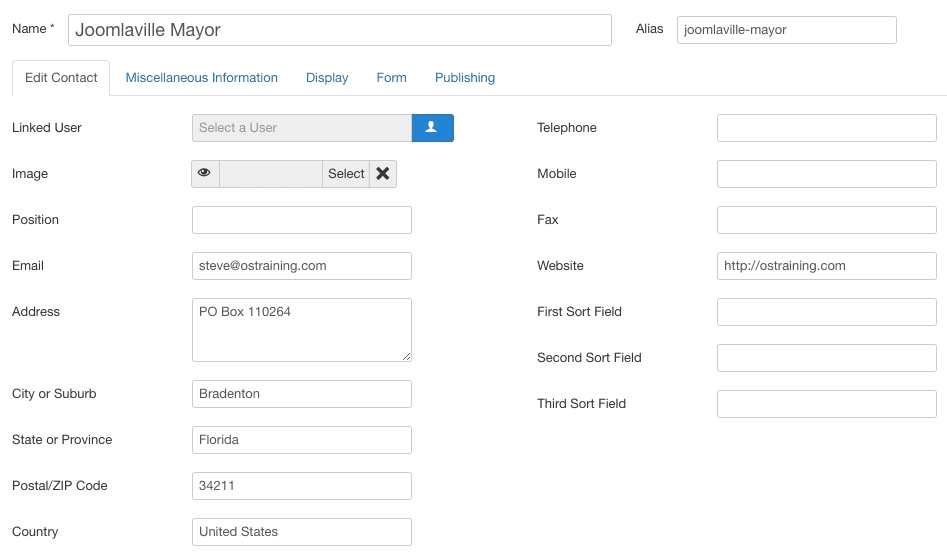 Here's how that data will appear on the front of the site: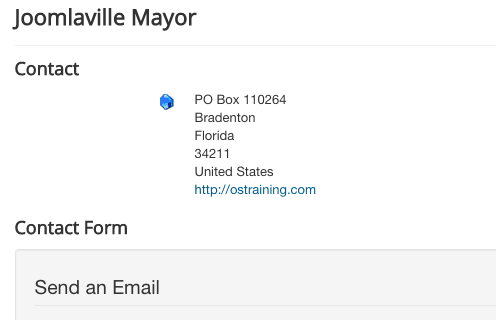 How to Add User Fields to Your Contact Form
You can also create custom fields to improve this contact form.
Go to "Components" and "Contacts".
Click "Field Groups" in the left-hand sidebar.
This is the important new task: choose "Mail" from the dropdown menu. This means your fields will be attached to contact forms that users can rely on to send email. If we choose "Contact" or "Category", our fields will only be available to site administrators. If you choose "Contact", this will be similar to the Address, City or Suburb, etc fields we saw above.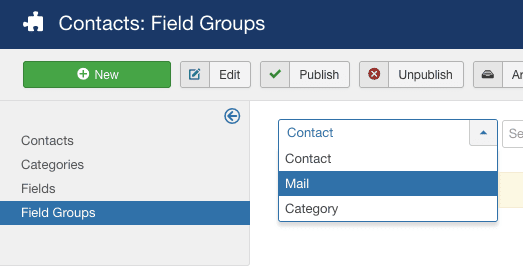 Click "New".
Title: Extra Contact Details
Save the field group and make sure your next screen looks like this:

Click "Fields" in the left-hand sidebar.
Again, choose "Mail" in the dropdown menu: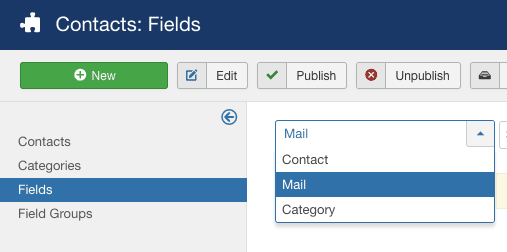 Click "New".
Title: What is Your Question About?
Type: Checkboxes

Field Group: Extra Contact Details
Checkbox Values: Enter topics that people might be contacting you about.

Click the "Permissions" tab.
Set "Edit Custom Field Value" to "Allowed". This will allow anyone to enter data into this field.

Visit the front of your site and your contact form will now have a custom field: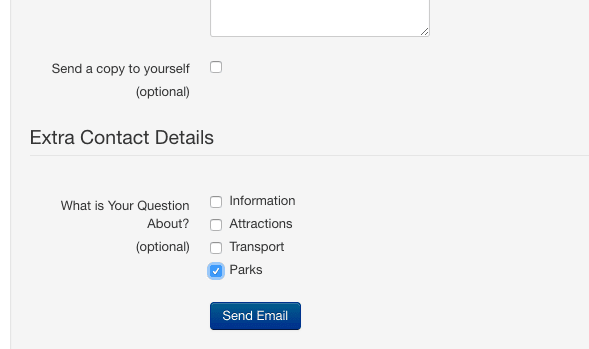 These custom fields will be included the emails you receive: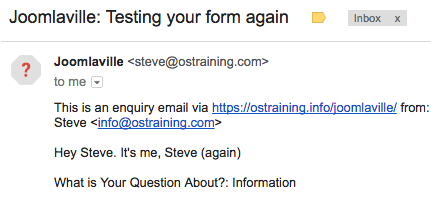 All-in-all, there are 15 field types in Joomla. With these fields, you can create some powerful contact forms.